The Annapolis Film Festival is back
There is no more exciting way to participate in the film community than going to a film festival. Festivals are a terrific way for being exposed to films and stories you'd never otherwise hear of, meet other likeminded individuals who share a passion for film like you do, and some films are followed up by a Q&A with some of the filmmakers involved (directors, producers, writers, actors, etc.). A couple weekends ago, I attended the tenth annual Annapolis Film Festival. The anniversary is not only significant because the festival has officially reached double digits old, but it was also the first time since the pandemic started that the festival was hosted in person. 2022 also marks the fourth year I have gone. With my mother by my side, I was ready to watch some great movies. And I must say, I was impressed with the diverse selection of stories found in the festival's program. As the festival grows to be more mature, the content presented increases in quality. Here are some notable films I saw at the tenth annual Annapolis Film Festival:
To Olivia (2021), Dir. John Hay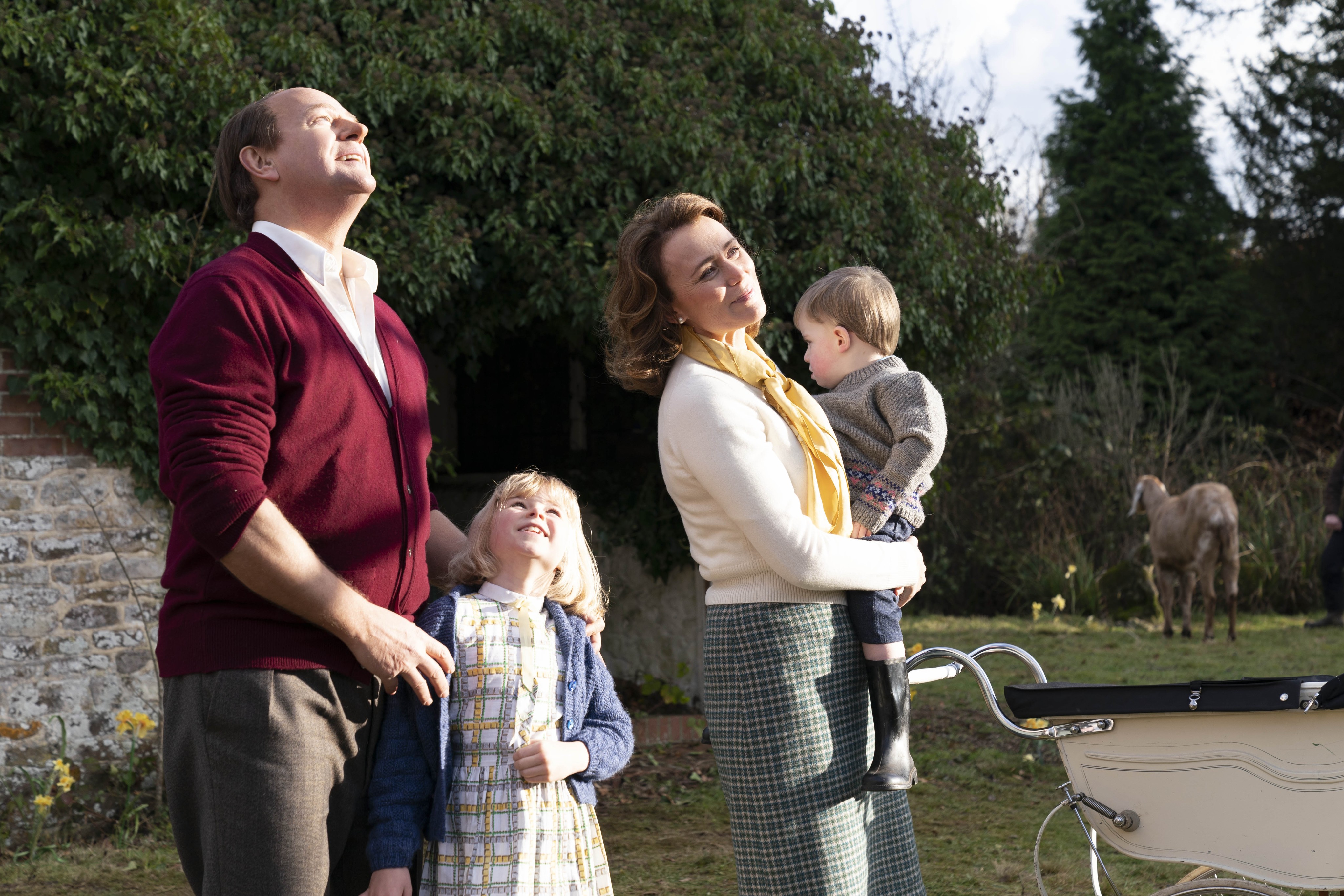 Author Roald Dahl may be known for writing Charlie and the Chocolate Factory, but he was also married to actress Patricia Neal, who starred in Breakfast at Tiffany's and opposite Paul Newman in Hud. After the tragic loss of their daughter, Dahl and Neal's relationship is tested by grief and coping.
What makes John Hay's biopic compelling is how the film chooses to focus on a select time in Dahl and Neal's lives that is not as classically cinematic. While other filmmakers might have chosen to tell the story of how Dahl came up with the idea of Charlie and the Chocolate Factory and went into the writing process (in turn, giving the film a recognizable I.P. to sell itself to audiences), Hay shares an intimate moment when the couple were simply parents in mourning. To Olivia demonstrates how two of the biggest creative figures from their era, and perhaps one of the most understated power couples, are as much regular people as anyone else. This is underscored by the films quaint English countryside setting and a pair of strong performances from the film's leads, Hugh Bonneville (Paddington) and Keeley Hawes (Death at a Funeral, Rebecca). The physicality of their acting is what sets them apart, and the camera serves to highlight this with closeups on their expressions. I also liked how the film gave equal agency to both stars, as the story is as much Patricia Neal's as it is Dahl's. Lastly, To Olivia acts as a reminder of the importance of vaccines in the past – their daughter was killed by measles shortly before there was a vaccine available – the film's final note inexplicitly drawing parallels between today and the 60s.
Where Hays' film falls short is in the number of cliches present in To Olivia. The score comes in at all the right emotional cues, manipulating us into believing there is greater filmmaking at play than there actually is. The movie is also too short and sweet to ever dig deeper than the surface level in its themes of grief, loss, and family. It only takes a little research to discover the real-life story didn't end as peachy as the film implies.
The premise of To Olivia had potential, and the film is ultimately supported by some great acting, but otherwise it is a by-the-numbers biopic we've seen all too many times before.
892, Dir. Abi Damaris Corbin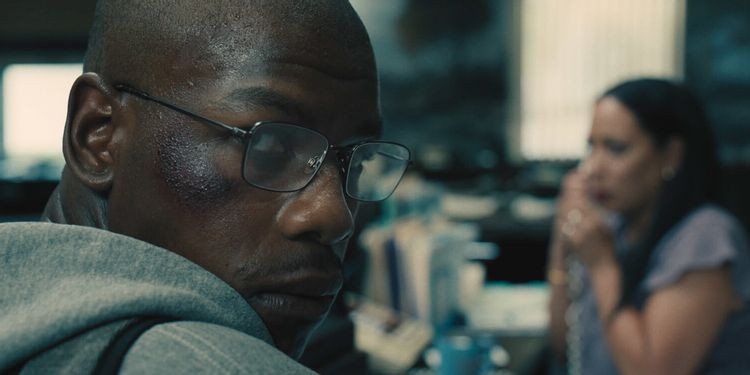 On May 25, 2020, the whole world learned George Floyd's name. However, another important story lost in the mix of the recent racial reckoning experienced in America is that of Iraq War veteran Brian Brown-Easley. After Veterans Affairs withheld his disability check (he is owed $892, hence the title), Brian was on the verge of homelessness. Left with no options, he walks into a Wells Fargo bank and claims to have a bomb. Brian's tragic story is yet another example of America failing those who served and the use of excessive force by our law enforcement.
When dealing with such sensitive material, especially when it involves real people, it is a responsibility of the filmmaker(s) to honor those people with an authentic depiction. I can tell director Abi Damaris Corbin, along with co-screenwriter Kwame Kwei-Armah, did their research; as she explained in the Q&A that followed what was the live premiere of the film (892 premiered virtually at Sundance), Corbin had over four hours-worth of phone calls Brian made during the crisis to work with when producing the script. She said after the film had been shown to Brian's family, they expressed "that was Brian [shown on screen]" and that the film did a good job in capturing his character. From the get-go Brian always makes his intentions clear to those held hostage in the bank, a pair of bank tellers, that he is not going to hurt them and if he detonates the bomb they will be let out of the bank. 892 also highlights Brian as a father who loves his daughter more than anything, and there is a particularly potent scene late in the film where they say a prayer together over the phone.
The glue of the film is the electrifying acting from John Boyega, who gives arguably a career-best performance in one of his most dramatic roles yet. The intensity of the portrayal is supplemented by the claustrophobic nature of the film, as during the first act we are kept in close proximity within the bank. However, as the film transitions into its second act, that claustrophobia begins to dissipate as first responders show up to the scene. Local police and the FBI begin to surround the building as the possibility of Brian detonating the bomb threatens to become a reality. Snipers are shown targeting the building, proving Brian's paranoia of being shot before negotiation to be justified. The late Michael Kenneth Williams, in one of his final roles, turns in solid supporting work as a crisis negotiator; he tries to do everything in his power to deescalate the situation and prevent another tragedy from happening in both the veteran and African American communities.
892 is a tense thriller that illustrates some of problems in America that would push a man/veteran/father to bring a bomb into a bank; for Brian Brown-Easley, his family, and the future of our country's sake, we must do better.
Emily the Criminal, Dir. John Patton Ford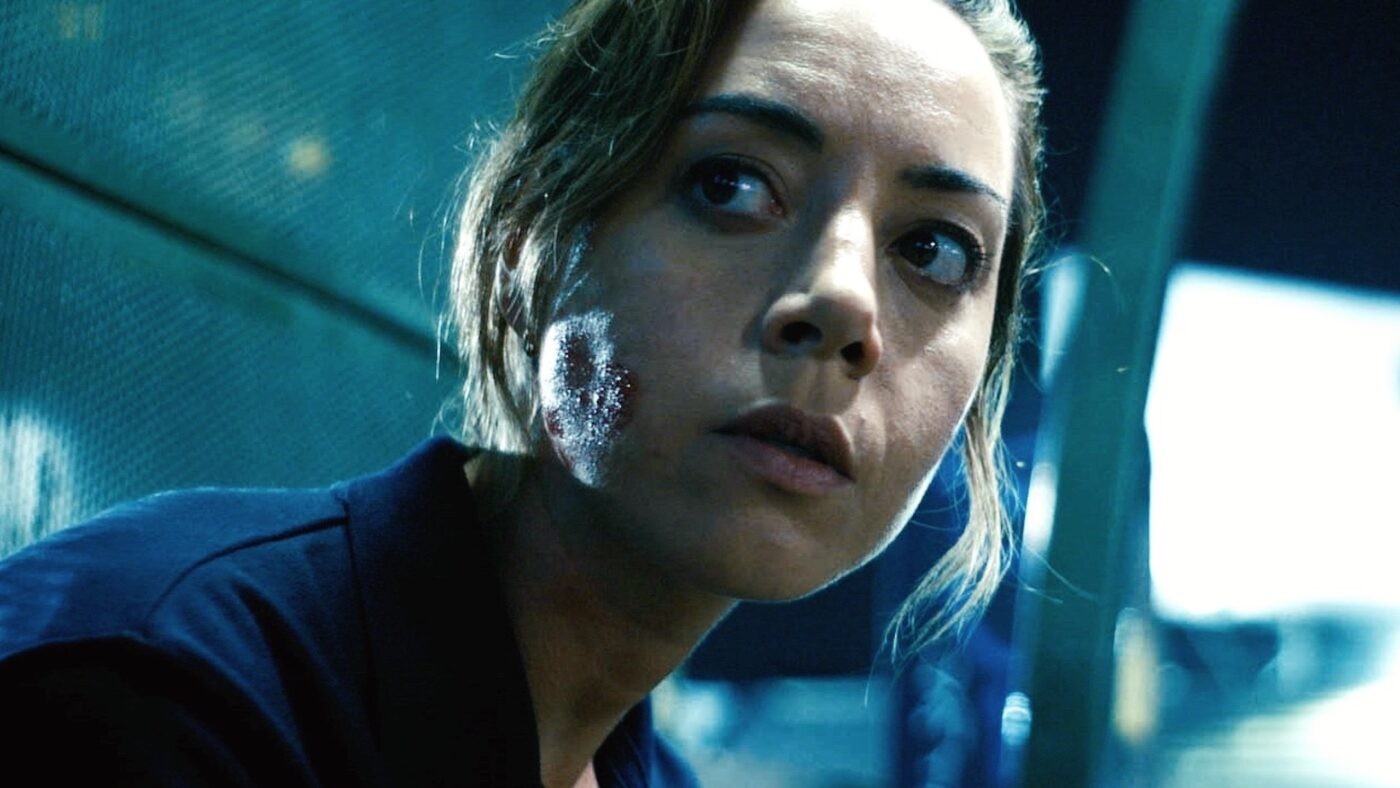 There may be no greater pairing than Millennials and student loan debt. Entering the workforce during one of the most harmful financial fiascos of all time didn't help either. This is the challenge Emily, the protagonist of John Patton Ford's directorial debut, is saddled with. She cannot find work that pays the bills, and she owes a lot of money for her education. However, there is a window of opportunity when a coworker refers her to a sketchy side hustle in what appears to be an abandoned laundromat. The job is simple: use a fake credit card with stolen information and purchase a TV. $200. Not bad for a few minutes of your time, and there's more where that came from. If she chooses, Emily can return for another job with a higher risk/reward.
Emily the Criminal is reflective of the financial anxiety that Millennials, and perhaps some of Gen Z, are experiencing; the film is a response to the zeitgeist of the 2000s. Emily is situationally pushed to criminality for her own survival, and although we aren't expected to condone her actions in promoting the scandal, we nonetheless sympathize with her. This is in part due to the electric performance from Aubrey Plaza, who had previously featured at the Annapolis Film Festival with the film Ingrid Goes West (another socially reflective piece on our use of social media). Plaza demonstrates her dramatic ability, while still embracing the darkly comic tone of the film. One thing I've always appreciated about Plaza as an actress is her "won't take shit" attitude; there is a scene in the film where, at an interview for a 'job' her friend referred her to, she expresses her disapproval of unpaid labor and the idea of being an intern for several months so that maybe she can get a job that pays. I cannot remember exactly, but I think she calls her friend's boss a bitch, and even if she doesn't say it, you can tell she's thinking it.
Emily the Criminal is not a narrative we haven't seen before, but smart writing, contemporary relevance, and a gritty performance from Aubrey Plaza make John Patton Ford's crime thriller one to write home about.
Peace by Chocolate, Dir. Jonathan Keijser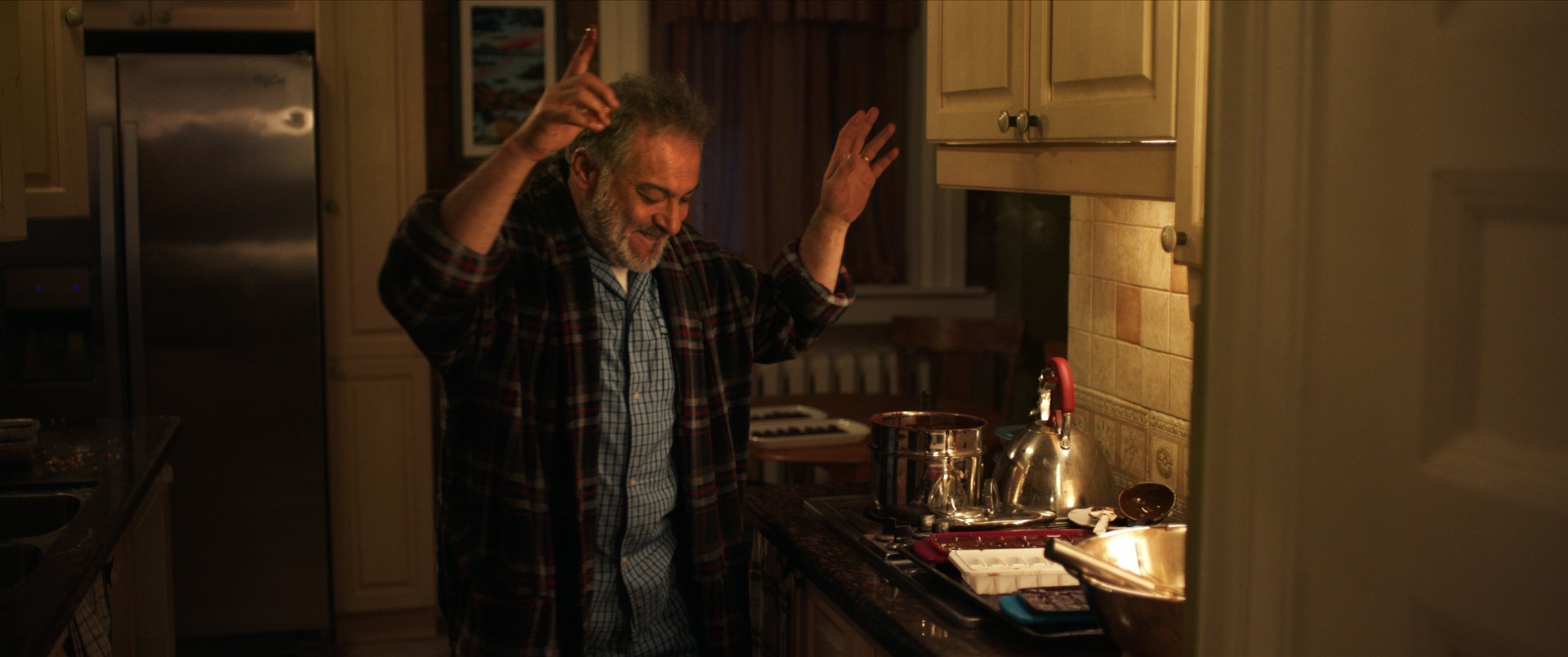 After their chocolate factory is bombed, Tareq and his Syrian family immigrate to Nova Scotia, Canada through a refugee program. Assimilating to the new culture is difficult, especially for Tareq's parents who do not speak English. Trying to return to a normal life, Tareq's father, Issam, begins making chocolates out of his sponsor's kitchen. The chocolate is a hit at the town's church, and Issam becomes a local celebrity. As demand for the chocolate grows, Tareq is roped into more responsibility for the new business…but he has other things on his mind: finishing medical school.
Peace by Chocolate was one of the sweeter films I saw at the festival, pun intended. I could not help but be reminded of recent Best Picture winner CODA. Both films feature a family that is a distinct minority from their community and are faced with a language barrier (the former about those who speak Arabic as opposed to English, and the latter about deafness). The parents of the families from Peace by Chocolate and CODA rely on their children, Tareq and Ruby, to translate and help them overcome this barrier; there is also an expectation that they help with the family business. However, Tareq wants to go to college and complete medical school, and Ruby wants to go to school for singing. A primary conflict of both films is this opposition between the parents depending on the child and the child's own career goals. It is interesting to see the similarity between two families that appear ostensibly very different. I think a lot of the emotional resonance that helped buoy CODA to an Oscar victory is matched by Peace by Chocolate.
The film's theme of the refugee crisis is also relevant not only to the situation that has been ongoing in the Middle East for years, but also more recently in Ukraine. Peace by Chocolate shows that refugee families want to contribute to the communities that bring them in, not mooch off of and take; the film is based on a true story and you can actually purchase chocolate from the Hadhad family here: https://peacebychocolate.ca.
Peace by Chocolate is an uplifting family drama that manages to touch on the surface of issues of adversity, familial expectations, and refugees. 
Other Films I Saw:
Blind Ambition, Dir. Warwick Ross, Robert Coe
"The inspiring story of four Zimbabwean men who form their country's first Wine Tasting Olympics team and the mission that drives them to compete."
The Bright Side, Dir. Ruth Meehan
"Stand-up comedian Kate thinks her life has no meaning and is not worth continuing. When she's diagnosed with breast cancer, even the universe seems to agree with her. However, a close encounter with death – and four other women on the chemo ward – might just change her mind and even her life."
Fire of Love, Dir. Sara Dosa
"Katia and Maurice Kraft loved two things – each other, and volcanoes. For two decades, the daring French volcanologist couple were seduced by the thrill and danger of this elemental love triangle. They roamed the planet, chasing eruptions and their aftermath, documenting their discoveries in stunning photographs and breathtaking film to share with an increasingly curious public in media appearances and lecture tours. Ultimately, Katia and Maurice would lose their lives during a 1991 volcanic explosion on Japan's Mount Unzen, but they would leave a legacy that would forever enrich our knowledge of the natural world."
Aristocrats, Dir. Yukiko Sode
"Hanako Haibara was born and raised in the city of Tokyo. After she gets dumped by her boyfriend, while in her late 20s, she goes on blind dates to find a man to marry. Miki Tokioka was born in a province. She studied very hard and entered a prestigious university in Tokyo. She experienced difficult financial times ,but she now works at an IT company. Due to a man, Hanako and Miki meet each other."
The Rose Maker, Dir. Pierre Pinaud
"Eve used to be one of the most famous rose creators in the world. Today, her company is on the verge of bankruptcy. On top of that, her secretary Vera has hired three outcasts with absolutely no gardening skills. Though they have nothing in common, they come up with the most crazy plan that could change their lives forever."