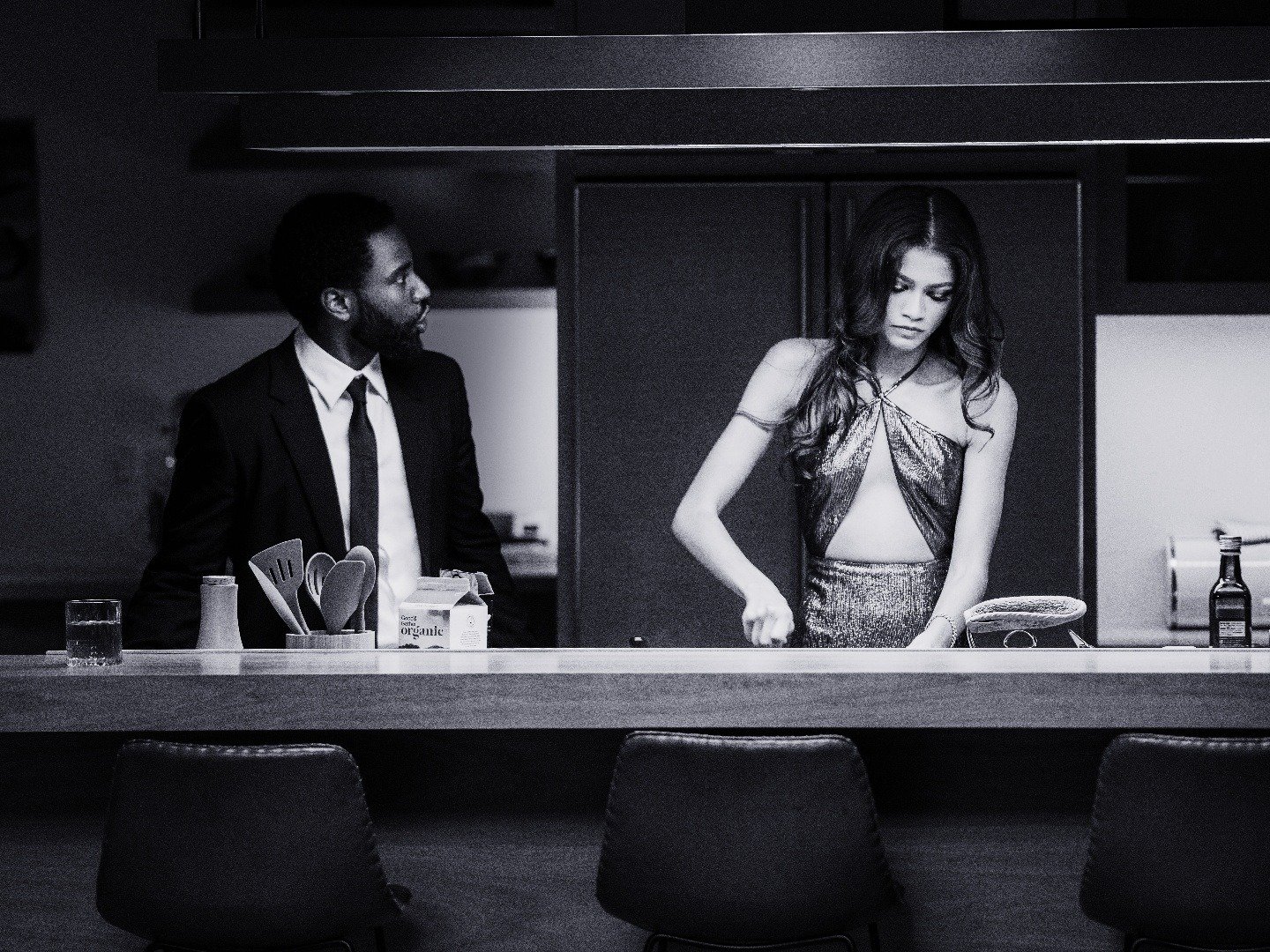 Malcolm and Marie is a verbal sparring match where words turn to daggers and grow increasingly sharp as the film moves forward. This glorious duel of tongue, between young and in-demand talents John David Washington and Zendaya, is all captured in seductive black and white Kodak film.
There are only two characters and one setting that make up Malcolm and Marie. With a description like that, one would believe the film was adapted from a stage play. However, the script is wholly original and comes from the mind that brought HBO one of its biggest hit series, Euphoria. Written and directed by Sam Levinson, the new Netflix feature is centered around a filmmaker who, following the successful premiere of his latest picture, wants nothing more than to celebrate. Instead, when he arrives home, he can tell something is upsetting his girlfriend and as a result of his instigating, a series of fights ensues.
Levinson has created a film about toxic relationships: both romantic and professional. The problems present between Malcolm and Marie are clear from the start, and only reveal the extent of their seriousness as we watch the relationship explode right before our eyes. The couple cannot communicate without elevating their voices every five minutes. In Malcolm and Marie, everything is laid out on the table. No punches are held back. Malcolm uses Marie's past of depression and drug addiction against her, and Marie points out Malcom's narcissism and creative mediocrity. Frequent close-ups on their faces make the arguing all the more suffocating. Malcolm and Marie, which released on Netflix two weeks before Valentine's Day, does not make for a good date night movie whatsoever…unless you do not want to be going on any dates after the movie is over.
When they aren't at each other's throats, their conversation finds a new target: film critics and Hollywood socialites. Malcolm is tired of his work being politicized because of the color of his skin; he alludes to the idea of him making a LEGO movie and how it would be interpreted as an allegory for how slaves laid down the building blocks of America. What if he just wants to make a LEGO movie for the fun of it? The filmmaker is also irked at the accusation of his "male gaze" inhibiting the quality of his female-lead movie. He cannot help the fact he is male, and that should not influence how one views the film he argues. Malcom and Marie is an interesting, if ultimately shallow, dissection of the way politics inevitably weaves its way in film reviews and interpretation. Levinson also makes a point to call out the hypocrisy of celebrity advocacy, insinuating some of our favorite role models only say what we want to hear rather than actually believe in it.
Malcolm and Marie is dialogue-driven; 99% of the film is talking, and the other 1% is spent watching Marie puff cigarette smoke in the air or listening to Malcolm's funk, jazz, and R&B playlist (which includes James Brown's "Down and Out in New York City", Dionne Warwick's "Get Rid of Him", and William Bell's "I Forgot to Be Your Lover"). The film, in turn, is heavily dependent on the energy its actors bring; the constant talking and arguing does feel exhausting at points. We, as the viewer get as few breaths in as the characters themselves. However, John David Washington and Zendaya are both magnificent. Their chemistry can spark lightning and they are in command of the words given to them. When Zendaya is berated by Washington, despite her best efforts to hide it, her character's pain is ever so slightly visible in the way her lips sink and eyes grow soft. This quickly changes when Marie is in attack mode, as Zendaya directs her sharp gaze and speaks with steady composure. She makes Marie someone you do not want to pick a fight with, but Washington's Malcolm holds his own.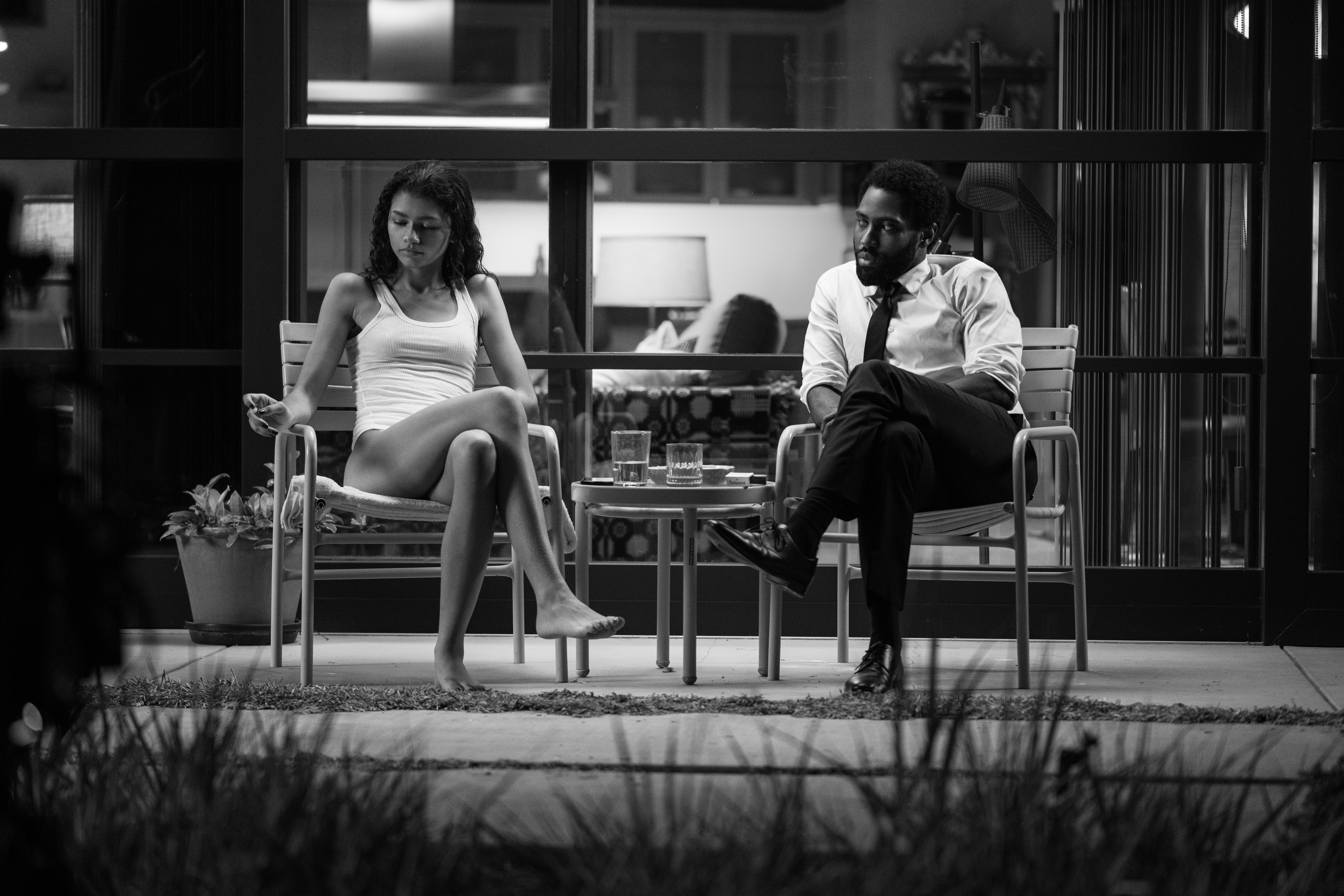 Simultaneously sexy to look at as it is nasty to listen to, Malcolm and Marie plays to a variety of emotions. The performances are dynamic, and the script is intelligent. The only thing I'm struggling with is finding a reason Levinson needed to make a film about a relationship tearing itself apart in the first place. Maybe, like Malcolm's LEGO movie, it's because he just wanted to and is that a crime?
Malcolm and Marie is streaming now on Netflix