A triumphant end to one of the greatest animated series, Toy Story 4 keeps Pixar's longest running franchise fresh as ever.
A more introspective film centered around Woody, Toy Story 4 demonstrates strong storytelling and masterfully completes the fabled character's development. Throughout the film, Woody is suffering from an existential crisis, as he still recovers from no longer being Andy's toy where he was the favorite. In Toy Story 4, we watch Woody's more one-dimensional attitude of what it means to be a child's toy be extended, as he adapts to his new situation with Bonnie and adopts a more liquid position regarding his purpose. Reunited with old flame Bo Peep, Woody becomes further entrenched in the past where he struggles to break away from his traditional views and run with the future. Toy Story 4 is the most intimate and personal look into Woody of the Toy Story films, as the movie understands that the transition from Andy to a new child, especially for Woody who both loved Andy and is stubborn, would not be easy. It is moving to witness Woody, while coping with loss, continue to put his interests aside for the well-being of Bonnie despite her disinterest for him. However, this apparent selflessness throughout the film doesn't always reflect Woody's inner motivations, his actions sometimes bearing closer to self-serving. Masters of personification, Pixar does what they do best, replicate relatable, complex human emotions in typically inanimate objects.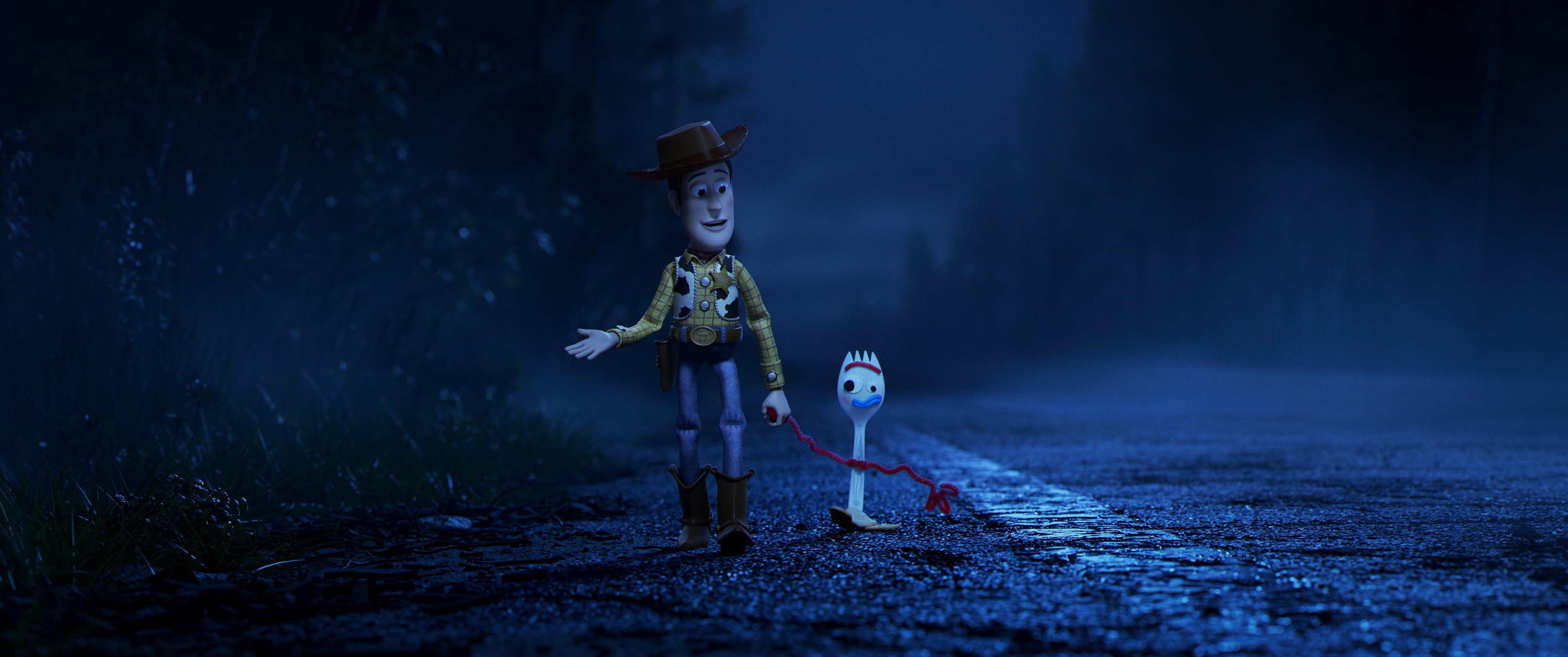 Even when not focused on Woody, Toy Story 4 introduces a great selection of new characters, who add plenty of comic relief and help Woody on his adventure, or sometimes obstruct. It's amazing how, even after four films and several characters, Pixar is still able to create characters who are wholly unique and interesting and have their own story to tell within the Toy Story universe; Forky will become one of your favorite characters. The return of Bo Peep also highly delivers, as she plays a transformative role in the film and establishes a mutual relationship between her and Woody where they add emotional depth to each other's characters. Unfortunately, because the film needs to make room for the new characters and chooses to direct focus on Woody, the rest of the original gang including Buzz Lightyear feel underused and pushed to the side.
The animation continues to grow more impressive, Tom Hanks is still fantastic as the voice of Woody, and Pixar does it once again in creating a relatable film with humor and heart; Toy Story 4 might be my favorite film of theirs in over a decade since Up. This film has a friend in me. 9/10