Cruella is the closest thing to Joker we'll likely ever see come out of Disney Studios. That comment may scare people away from watching the movie, and it may entice others. Don't let it. Cruella is still very much its own film that embraces the campiness of its titular character's villainous side, whilst remaining just dark and serious enough for adults to enjoy. Remember, we're talking about a villain who's known for wanting to kill dalmatians and make a coat with their fur – you can only make the character so nuanced.
Born Estella, the film opens with Cruella (Emma Stone) narrating scenes from her childhood. Estella has always been a troublemaker and juvenile, and above all else strives to be different – not only because of her black and white split hair. After being kicked out of academy, Estella is taken on a visit to Hellman Hall where her mother is meeting with a mysterious individual who can help with their situation. Estella is told to wait in the car while her mother conducts her business, but that proves to be nearly impossible for Estella as there is a fashion ball being hosted at the hall and fashion is her passion. Estella stirs up mischief and then is pursued by a trio of dalmatians. As she runs towards her mother for help, the dalmatians pass Estella and bolt towards her mother instead, pushing her off a cliff. Estella escapes the hall and heads to London. Now an orphan, she is discovered by a pair of grifters who take her in.
Fast forward to the punk rock movement of the 1970s. While working at a department store, Estella catches the eye of fashion icon Baroness von Hellman (Emma Thompson) – chic, elegant, terrifyingly mean, and obsessed with power. As Estella gains the confidence of the Baroness, their relationship proves to be the catalyst to turn Estella into the infamous and revenge-bent Cruella.
Disney live action adaptations have been, in a more objective sense, a mixed bag thus far. Guy Ritchie's Aladdin and Niki Caro's Mulan took risks with their stories and characters and were met with mixed critical and fan reception. Meanwhile, Jon Favreau copied and pasted Lion King into realistic CGI and hoped Beyonce in the cast would make us not notice. With Cruella, Disney is looking to capitalize on a more recent trend in Hollywood which they helped start: the villain origin story. The Maleficent movies combined brought in over $1 billion at the box office.
Telling the stories of how some of our favorite villains came to be is a smart tactic. These often are stories that haven't been told and open the door to new opportunities for Hollywood studios who have been dogged in recent years by criticisms they lack creativity. Villain origin stories, when told well, can be just as interesting as those for protagonists. Cruella is a stylish romp full of energy and set to the tune of a rocking soundtrack (includes "Inside-Looking Out" by the Animals, "One Way or Another" by Blondie, and "Should I Stay or Should I Go" by the Clash among other notable hits and covers of the era). The film sets itself apart from other Disney live-action adaptations not only with its eccentric costume design, but also for its bold storytelling…at least for a Disney film.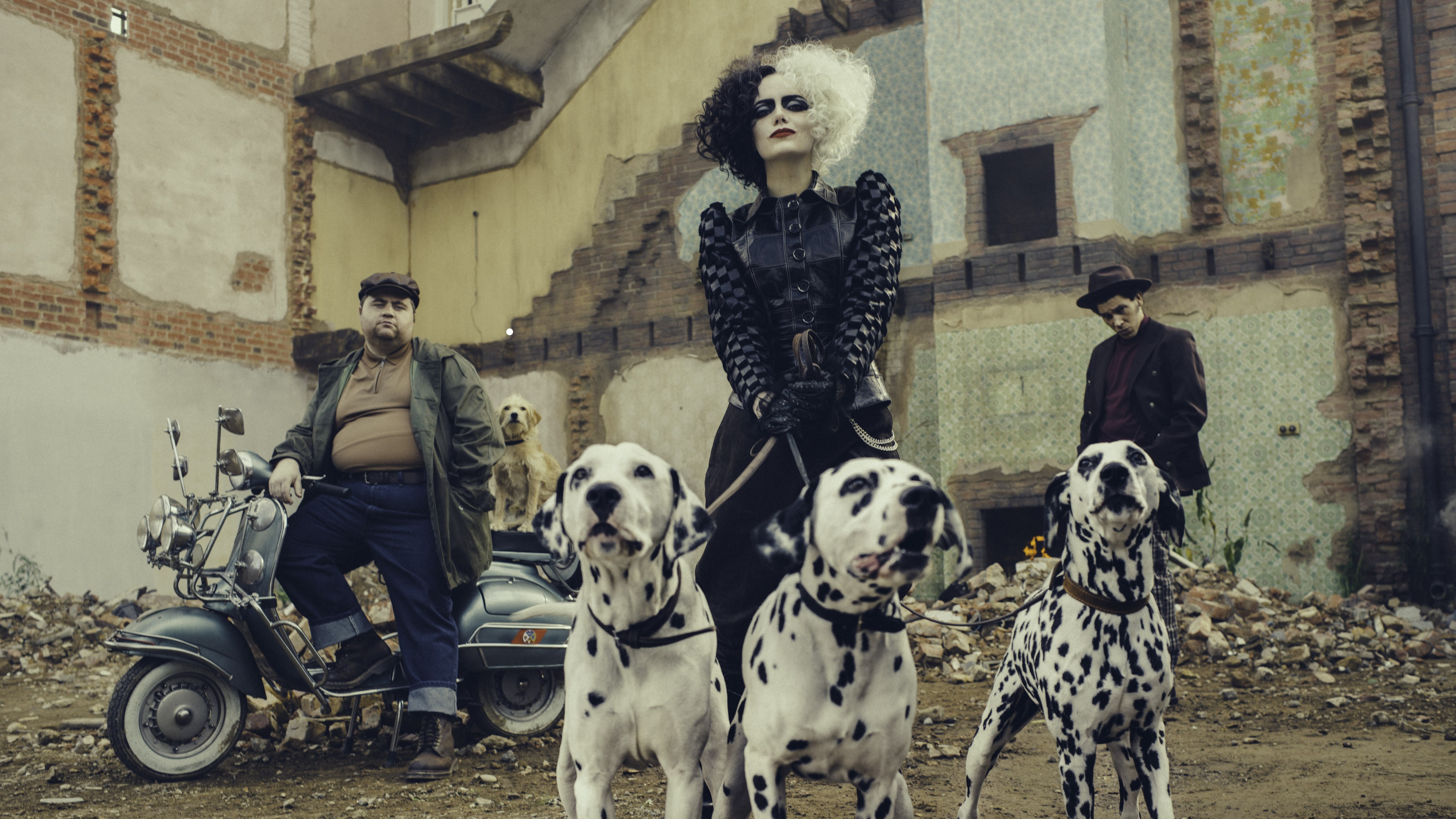 Director of Academy Award nominated I, Tonya (2017), this isn't the first time Craig Gillespie has told the story of a notorious character. The way Gillespie directs Cruella is reminiscent of his direction of I, Tonya: he paints Cruella in a sympathetic light, but also allows her crazy to ride and her evil side peek its head out. For this to work, Gillespie needs star Emma Stone to commit herself to the role the same way Margot Robbie did with Tonya Harding…and she does. Stone knocks it out of the park.
Emma Stone has this Jekyll and Hyde characteristic to her performance. She's required to play two roles as both Estella and Cruella and can flip between the dueling personalities fluently. As Estella, she's sweet and innocent, although still a pickpocket, so take that with a grain of salt. This is her wanting to behave in honor of her mother. When Cruella comes out to play, she develops a sharp tongue, and her success comes at the cost of everyone else. She jokes about murder and has a taste for the dramatic. Stone immerses herself in the role of Cruella de Vil, and genuinely seems as if she's playing two completely different people. From her mannerisms to the change of tone in her voice, Stone does it all.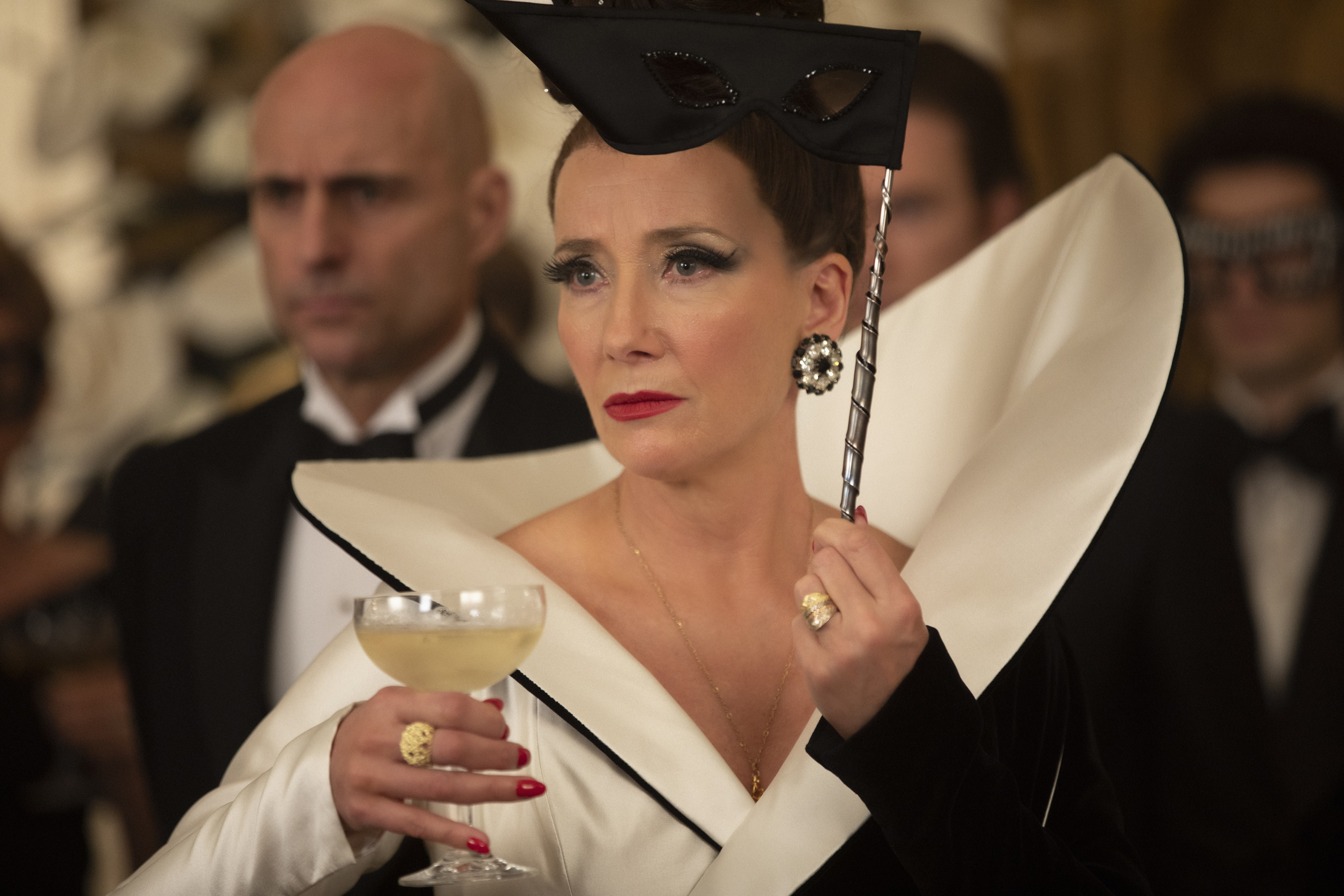 Supplementing Stone's performance is Thompson as the equally malicious Baroness von Hellman. Thompson mirrors Stone when portraying Cruella, or perhaps Stone mirrors Thompson, as the two characters engage in duels of wit and compete to see who can design the best dress. I found both actresses to be the most electric when on-screen together. Paul Walter Hauser (worked with Gillespie on I, Tonya) and Joel Fry play the thieving buddies that act as important cogs to Cruella's vengeful schemes, providing needed comic relief that prevents the film's tone from becoming too serious.
Where Cruella struggles is in a similar area I, Tonya did; the film's pacing sometimes drags, and the narrative feels slightly over-extended. Clocking in at 2 hours and 14 minutes, you can feel the length of Cruella.
A film about Cruella de Vil isn't one I'd usually take much interest in. But because of the quasi-realistic style and direction Gillespie applies to the character, the vibrance and exuberance of the costume and makeup design, and the magnificence that is Emma Stone, this is a movie I had fun watching.
Cruella is in theaters and now streaming on Disney+ for a premium charge of $29.99 (available to stream free on August 27)