The Devil All the Time is a meandering, Southern Gothic tale that plays with themes of religious devotion and manipulation, violence, grief, and revenge among other things, but suffers from its own ambitions. It's a film dense with morally black and white characters, most of them being plain evil and lacking depth, which ultimately begs the question: "who cares?"
(Light Spoilers)
Having recently returned home from World War II, Willard Russell (Skarsgard) falls in love with a waitress, Charlotte, and has a son, Arvin. Things seem to be going well for the family at their small home in Knockemstiff, Ohio, until Charlotte is discovered passed out on the kitchen floor and is later diagnosed with cancer. Feeling hopeless, Willard fervently prays and does everything in his power to save his wife, even sacrificing the family dog (dog lovers be warned) much to Arvin's dismay. However, Willard's efforts are fruitless, and Charlotte passes away. Shortly thereafter, unable to cope with the trauma from war and his wife's death, Willard takes his own life and leaves Arvin an orphan, who then moves in with his grandmother in West Virginia. Fast forward 8 years later, and Arvin turns into Tom Holland (the real reason you watched the movie, isn't it?). In a struggle to come to terms with his father's actions, Arvin looks to protect his loved ones, including his stepsister Lenora (played by Little Women's Eliza Scanlen), from the West Virginia town's more unsavory characters.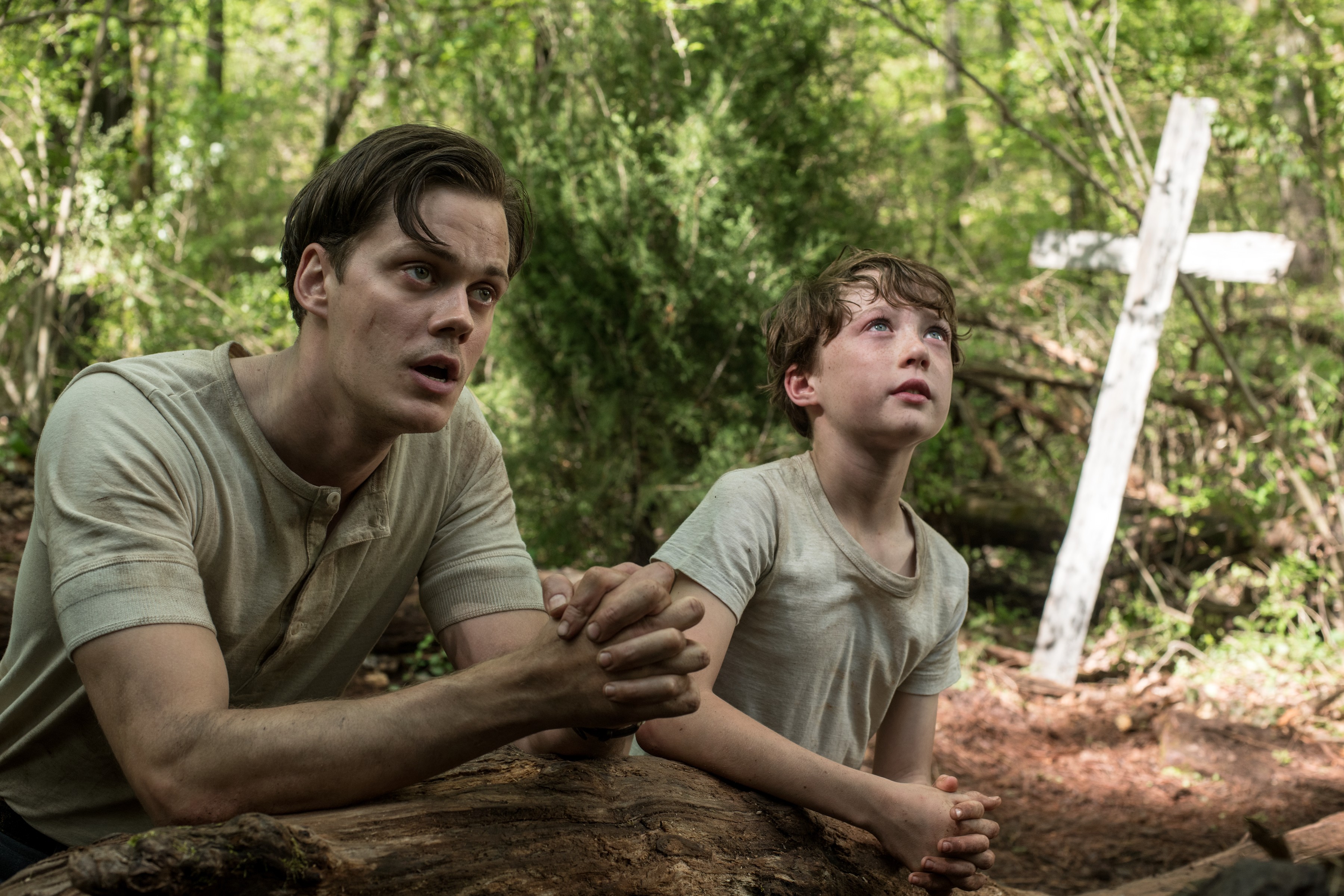 Adapted from Donald Ray Pollock's novel of the same name, The Devil All the Time has the feel of a film directed by someone who shares a love for the source material. When adapting literature to the big screen, or rather in The Devil All the Time's case the home theater (thank you Netflix), directors may inject their own style and voice into the story. This can create something new yet familiar, a famous example being Kubrick's redesign of The Shining. However, director Antonio Campos seems set on maintaining the voice of the author within his work…quite literally. Author Donald Ray Pollock plays the part of a narrator throughout the film, an element designed to unify the many storylines spanning several years of time. Narration can be a useful technique in cinematic storytelling when used in such a manner as to add another layer to the fabric of the film, such as exploring the reticent thoughts of Jessie Buckley's character in I'm Thinking of Ending Things. In the case of The Devil All the Time, the narration fails to supplement the story in any meaningful way, some critics describing it as having an "audiobook quality". The audience is busy being spoon-fed information, some of it unnecessary and some of it already recognizable from what is witnessed on the screen, thus spoiling the principle of showing instead of telling.
Continuing from the saturation of the film's visual medium by its narration, director Antonio Campos would've benefitted from being told to "kill his darlings" – or rather, to cut out any unnecessary content, scenes, and characters for the overall story's sake. The Devil All the Time isn't a quickly paced film, and its 138-minute runtime needs a trim. The film also attempts to develop many characters, highlighted by its all-star cast, and while they all meet their end, they aren't developed in a significant enough way as to warrant any investment from the viewer (save for Arvin, who seems to have the central-most storyline). Simply put, people die, and I don't have a reason to care; most of the characters lack any redeemable qualities to start with in the first place.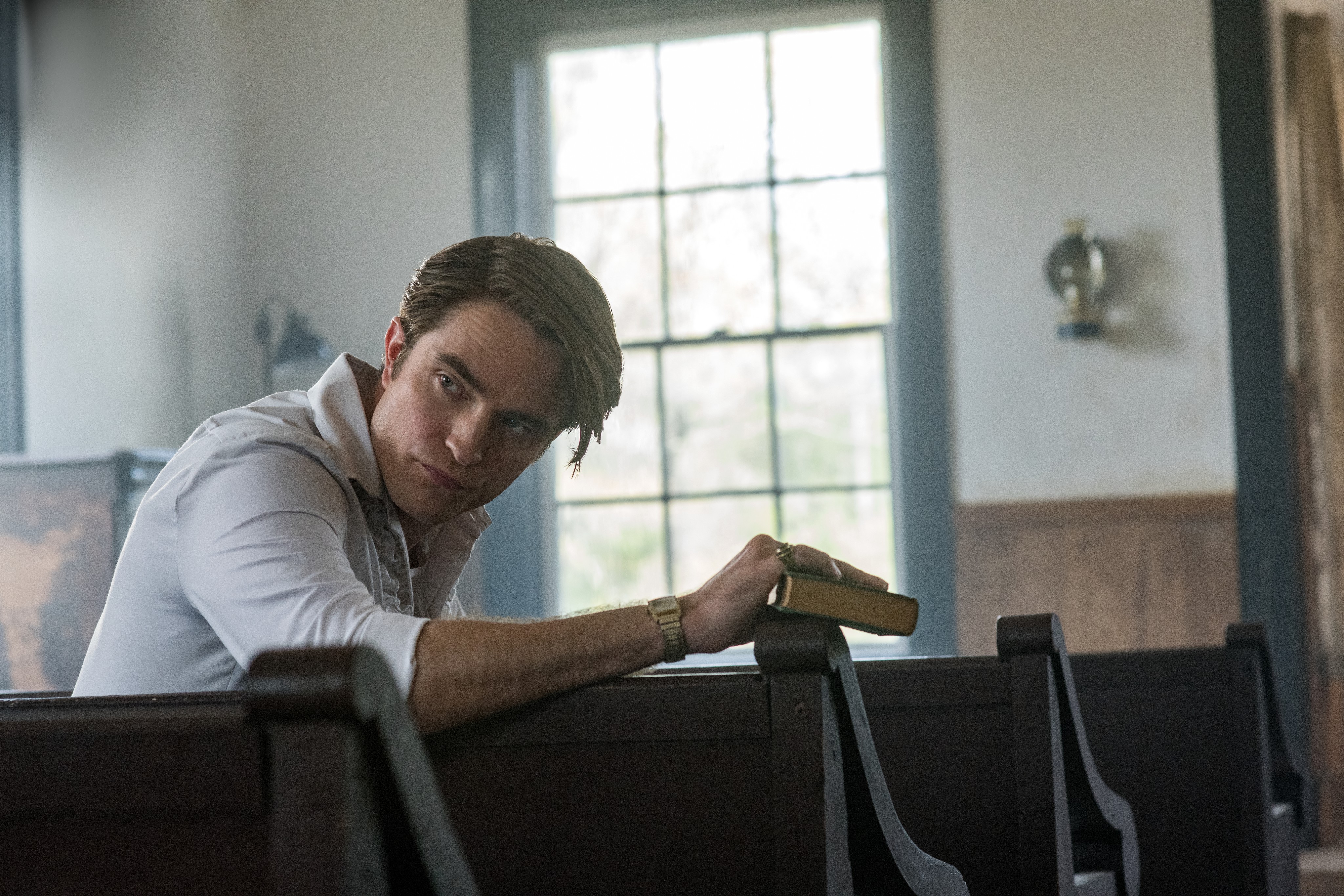 While The Devil All the Time may suffer on a storytelling front, there is some merit in Campos' directing. He is able to build quality tension when he needs it, specifically when it comes to standoffs, such as when Holland's Arvin confronts the preying Preacher Teagardin, malevolently played by a thickly accented Robert Pattinson. Campos is also able to extract great performances from his cast, with Tom Holland delivering in a weighty role as a boy seeking peace in a world full of sin, and Riley Keough impressing in a limited role as the wife of a serial killer wielding a camera. On other fronts, the excessively bleak tone of Campos' film is complemented by its score, composed by Saunder Jurriaans and Danny Bensi.
The Devil All the Time is the antithesis of a feelgood film. With its excellent cast, sinister characters, and perversely dark tone, Netflix has another juicy, commercial hit for the masses, and while I believe the film is solid, I lack conviction in recommending it; there are simply better films within the American period-thriller genre. Watch There Will be Blood for its complex characters, O Brother, Where Art Thou? and No Country For Old Men for the Coen Bros.' writing, and Netflix's own Mudbound for a more complete study of racial tensions and war trauma following the returning of soldiers from World War II.
The Devil All the Time wants to be an epic, but mistakes scope and size for what makes a film an epic. 6.5/10