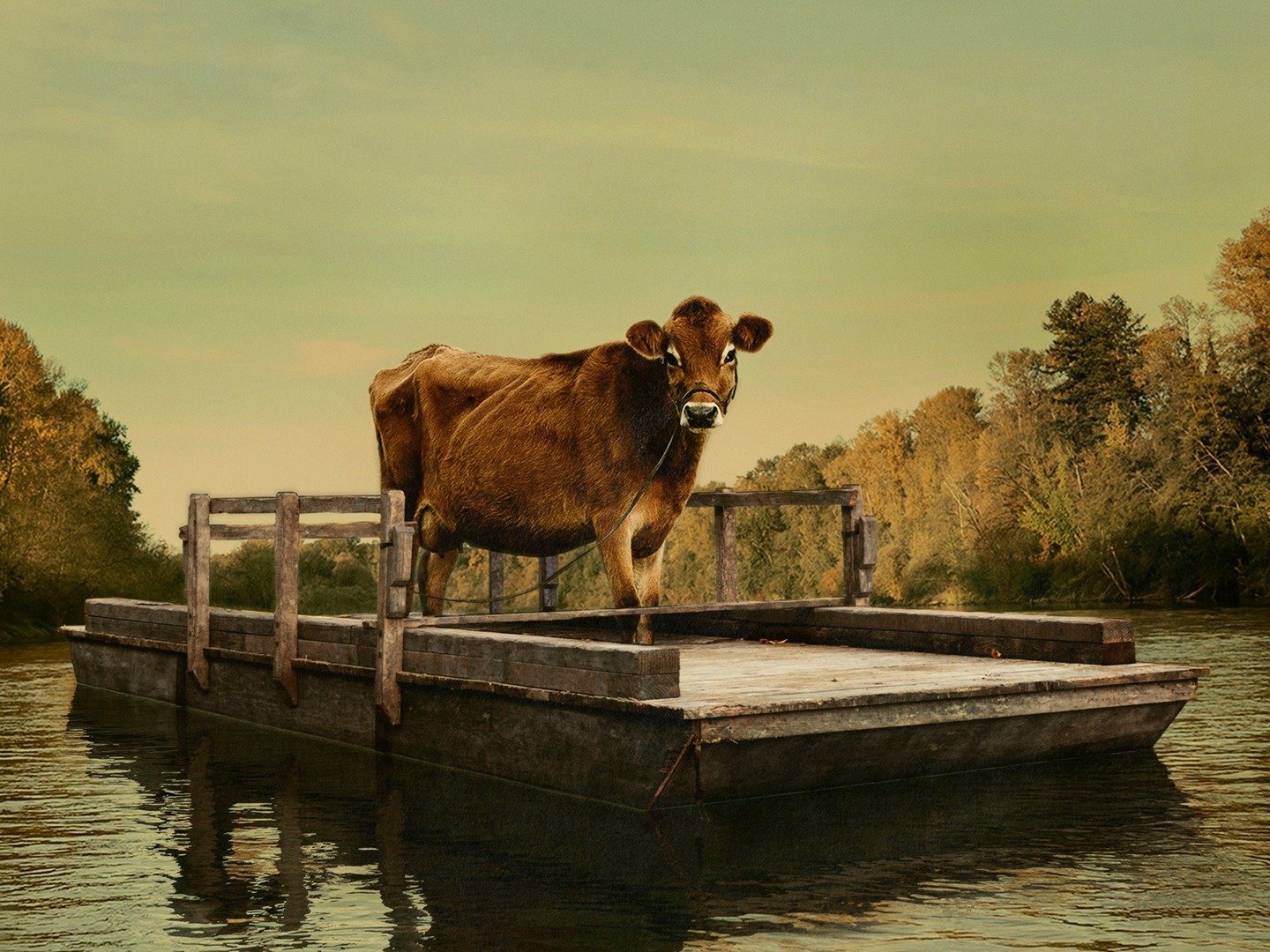 Director Kelly Reichardt is known for telling stories about the working class. In her latest film, First Cow, she does this in the 19th century on the Western Frontier. With First Cow, Reichardt has created an ambient and tender movie on friendship and class division that shouldn't be missed.
Despite First Cow's period setting, the film's opening frames feel surprisingly modern…and that's because they are. A woman and her dog are out in the woods when they stumble upon a pair of skeletons. The scene is preceded by a quote from William Blake, "The bird a nest, the spider a web, man friendship." The film then flashes back in time to Oregon in the 1820s.
We are first introduced to Otis "Cookie" Figowitz (John Magaro) as he is picking mushrooms, hoping to feed the band of hungry trappers he travels with by day. Cookie isn't well liked back at camp, and is treated like an outsider; one of the trappers threatens to harm Cookie once the group has reached their destination and everyone has received their silver. One night, while Cookie is out scavenging, he bumps into a naked Chinese immigrant, King Lu (Orion Lee). Lu explains to Cookie that he is on the run from Russians who killed his friend, and whom Lu retaliated against by shooting one of their own. Cookie offers to let Lu spend the night in his tent, and the next morning the two go their separate ways, never expecting to see each other again. 
The film then fast forwards to a well-groomed brown cow (Eve the Cow) being transported by ferry; she is the first cow of the territory. The camera then returns to Cookie, who we watch walk through a marketplace with a pair of new boots and a pocket full of silver. He enters a bar, where he is left to watch over a baby after a fight breaks out and empties the place except for one person: a pleasantly surprised King Lu. Lu invites Cookie over to his shack to share a bottle of alcohol, and it is while the two are catching up that Lu suggests to Cookie they should milk the newly arrived cow so Cookie can bake some real goods. There is only one catch, the cow is under the ownership of Chief Factor (Toby Jones), a wealthy British landowner who wouldn't be pleased with someone stealing his milk.
The new friends attempt the risky endeavor anyway, with Lu keeping watch perched atop a tree and Cookie smooth-talking the cow as he milks her. Cookie then cooks up batches of delicious-looking biscuits, which Lu and he take to the market and sell like hotcakes. "I taste London in these cakes," Chief Factor exclaims. It is only a matter of time before he realizes his milk is the secret ingredient. However, as Lu later argues, "you've got to take what you can when the taking is good".
First Cow is a film that moves at a leisurely pace. Reichardt likes to take in the beautiful landscapes and verdant woods (splendidly captured on 35mm film). She lets the camera linger on the expressions of her film's characters, particularly Cookie and King Lu, and gives space for the friendship at the center of First Cow to organically grow. Actors John Magaro and Orion Lee demonstrate a true bond, and their performances are warm and sympathetic. I also loved the sound editing of First Cow. Every noise of the wilderness is amplified, from crackling fires and rushing streams, to boots crunching in the mud and birds cawing; complemented by the score from folk guitarist William Tyler. First Cow is, for the most part, a serene and wholly enjoyable experience. 
However, do not allow the seemingly mundane nature of the film deceive you; there is a lot to be said on the themes in First Cow. Within the film, Reichardt presents the troubling disparity in wealth that has long plagued the country. In a conversation between a visiting captain (Scott Shepherd) and Chief Factor, the captain details the ever-changing fashion trends in Parisian high society, "canary yellow and turkey red are the colors du jour". But for our protagonists Cookie and King Lu there are no "colors du jour." They have to do what they can to scrape by, even if it means it is something that could get them shot. Reichardt highlights the blatant economic inequality that came with American colonialism, and her stripped-down and non-preachy storytelling reminds me of director Eliza Hittman's Never, Rarely, Sometimes, Always, another thematically critical film from 2020.
First Cow is not a film for everyone, but isn't that true of every movie A24 puts out? The unhurried tempo of the film may be a turn off for some people. I, on the other hand, found Reichardt's laid-back direction refreshing, and believe First Cow is a film that will work its way into your heart if you give it a chance. 8/10