Vanessa Kirby Gives Career-Best Performance in Tale of Grief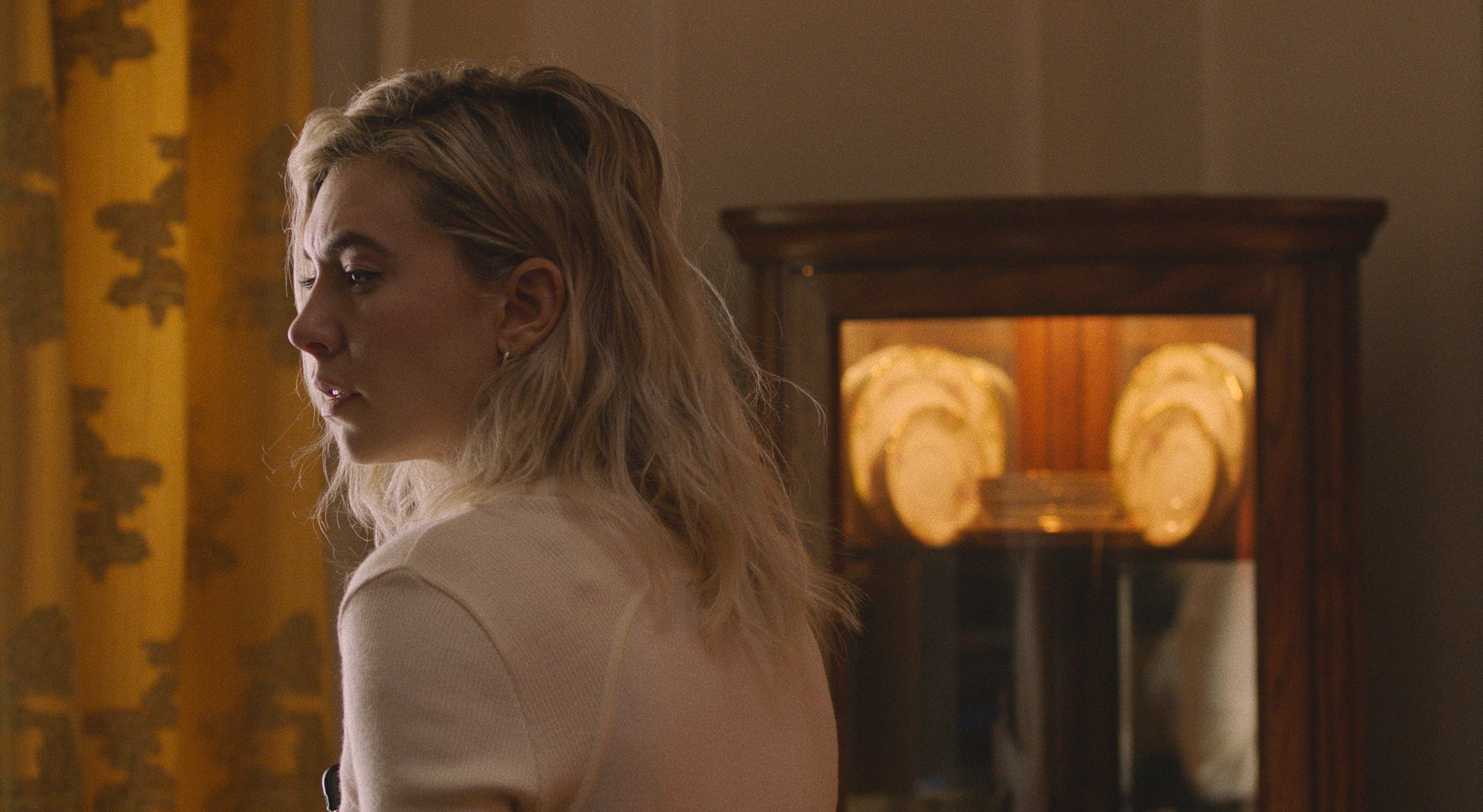 Miscarriage is an awful thing for anyone to suffer. With their latest film Pieces of a Woman, Hungarian director Kornél Mundruczó and writer Kata Wéber depict the trauma that follows a neonatal death. The opening act of the film will leave you in shock and awe, and the performance of former The Crown star Vanessa Kirby is riveting. Unfortunately, the remainder of Pieces of a Woman cannot maintain the heart-racing intensity of its introduction and quickly becomes a meandering melodrama.
Martha (Kirby) and Sean (Shia LaBeouf) are a couple on the precipice of parenthood when a homebirth ends in tragedy and their lives are irrevocably changed. In the year following the incident, Martha is challenged by grief, her crumbling relationship with Sean, and her overbearing mother (Ellen Burstyn) who wants to take Martha's midwife (Molly Parker) to court and sue for millions.
Pieces of a Woman has made headlines for the film's 24-minute birth scene. It begins with giddy contractions that tell Martha and Sean it's time. Their selected midwife is pre-occupied with another labor, so the couple is met by her replacement, Eva. Eva's friendly face and reassuring tone provide a short-lived calming presence to the room. She has Sean take Martha to the bathtub while they wait for her to set up. Martha's pain-induced groans fill the air. Once Eva is finished getting ready, she has Sean help carry Martha into their bedroom. After checking a few things, Eva gives Martha the greenlight to begin pushing. What proceeds looks like arduous torture but using all her might, Martha is able to push the baby out. For a flash of an instance, she gets to hold her newborn daughter as Sean takes pictures. Then the baby turns blue and Eva yells at Sean to call 9-1-1. Martha lays helpless, as the life she just brought into the world is stripped from her arms.
The scene made me cringe. I could feel my whole body tighten. I knew what was coming, but there's no way to prepare for how everything unfolds. The rehearsed chaos and tragedy feel all too real. Kirby, LaBeouf, and Parker give the scene everything they've got, especially Kirby. Director of Photography Benjamin Loeb gets up close and personal with the camera. The scene consists of one shot, a difficult-to-pull-off tactic recently made famous by 1917, placing the viewer squarely in the midst of the action. When the sequence finally fades to black, set to the tune of a wailing ambulance, relief begins to set in with a bitter aftertaste. You've reached the end of the wild ride, but at what cost?
Alas, Pieces of a Woman is never able to recapture the momentum of its intense depiction of the labor and birthing process. Nonetheless, Kirby remains a force on the screen. I'm not the first to say these things, but I'll toss my opinion in the ring and reinforce the consensus.
As the film's title suggests, Pieces of a Woman is centered around a woman who is broken and traumatized following the aftermath of a neonatal death. The life in Martha's face is drained; it seems like she always is looking through people rather than at them. Martha is faced with a series of conflicts and situations for which she couldn't have prepared. What should happen to the baby's body? Will her relationship with Sean survive? Is it right for her mother to take Eva to court on accounts of gross negligence and manslaughter? Even seemingly trivial matters, such as which spelling of her daughter's name should be inscribed on the tombstone (Martha would rather donate the body to science) or whether or not the baby room should be maintained, are turned into dramatic arguments. The film digresses and branches out into multiple subplots left underdeveloped, ultimately shifting focus away from the trauma that is the core of the story. Kirby may excel, her silence and body expressions speaking volumes, but even her performance isn't enough to raise otherwise mediocre material.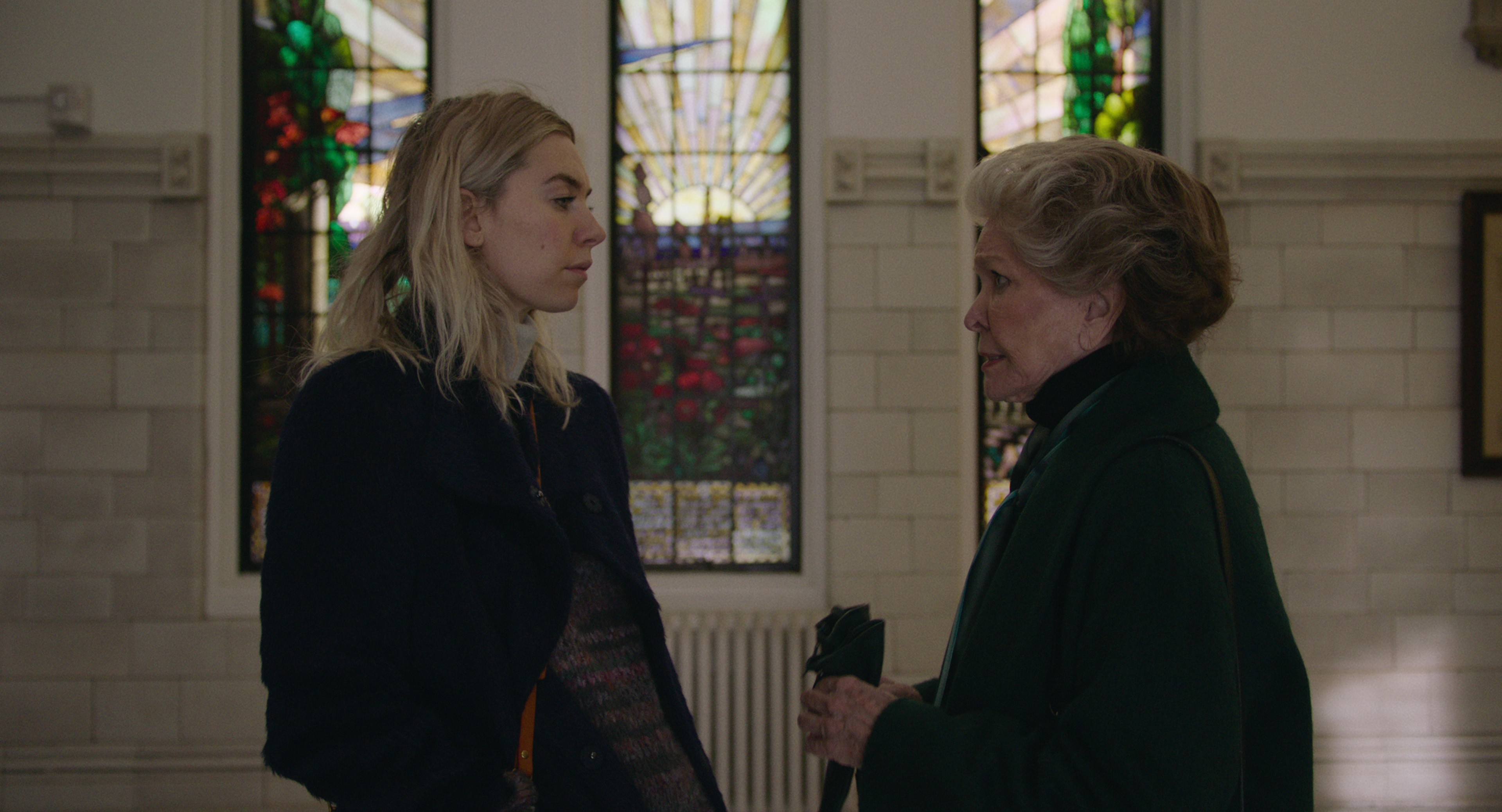 While Kirby may soak up the spotlight and awards attention, Shia LaBeouf also gives a noteworthy performance. LaBeouf is rugged and, as his character likes to describe himself late in the film, boorish as Sean. It's difficult to watch Sean relapse, and LaBeouf makes his pain palpable through his demonstrated frustration. However, in light of LaBeouf's abuse allegations, his character's own abusive behavior may make some viewers uncomfortable. Ellen Burstyn as the controlling mother makes for a compelling opposing force to Martha. Burstyn has a winning monologue moment which may earn her a supporting actress nomination.
Pieces of a Woman includes one of the hardest to watch sequences of recent memory. Vanessa Kirby and Shia LaBeouf are undeniably terrific. But the film's portrayal of trauma and postpartum depression just doesn't quite live up to its setup.
Pieces of a Woman is now streaming on Netflix