When we think of Alfred Hitchcock as a director, our minds likely think of horror or thrilling mysteries. We may imagine the shower scene from Psycho (1960) or the phonebooth scene from The Birds (1963). However, in an earlier part of his career, Hitchcock demonstrated he could be a master in any genre…even romance.
In his 1947 film Notorious, Hitchcock tells a story of a young woman, Alicia Huberman, who is asked to travel to Brazil to infiltrate and spy on a group of Nazi sympathizers. The man whose job is to persuade her to agree to the idea is Mr. Develin, a U.S. intelligence agent that also acts as a supervisor and information contact. As the two spend more time together, they quickly fall in love, but all of that is interrupted when Ms. Huberman must pretend she is in love with the leader of the Nazi ring, Alexander Sebastian. The Criterion Collection describes the film as "an anguished romance shot through with deception and moral ambiguity [and] a thriller of rare perfection."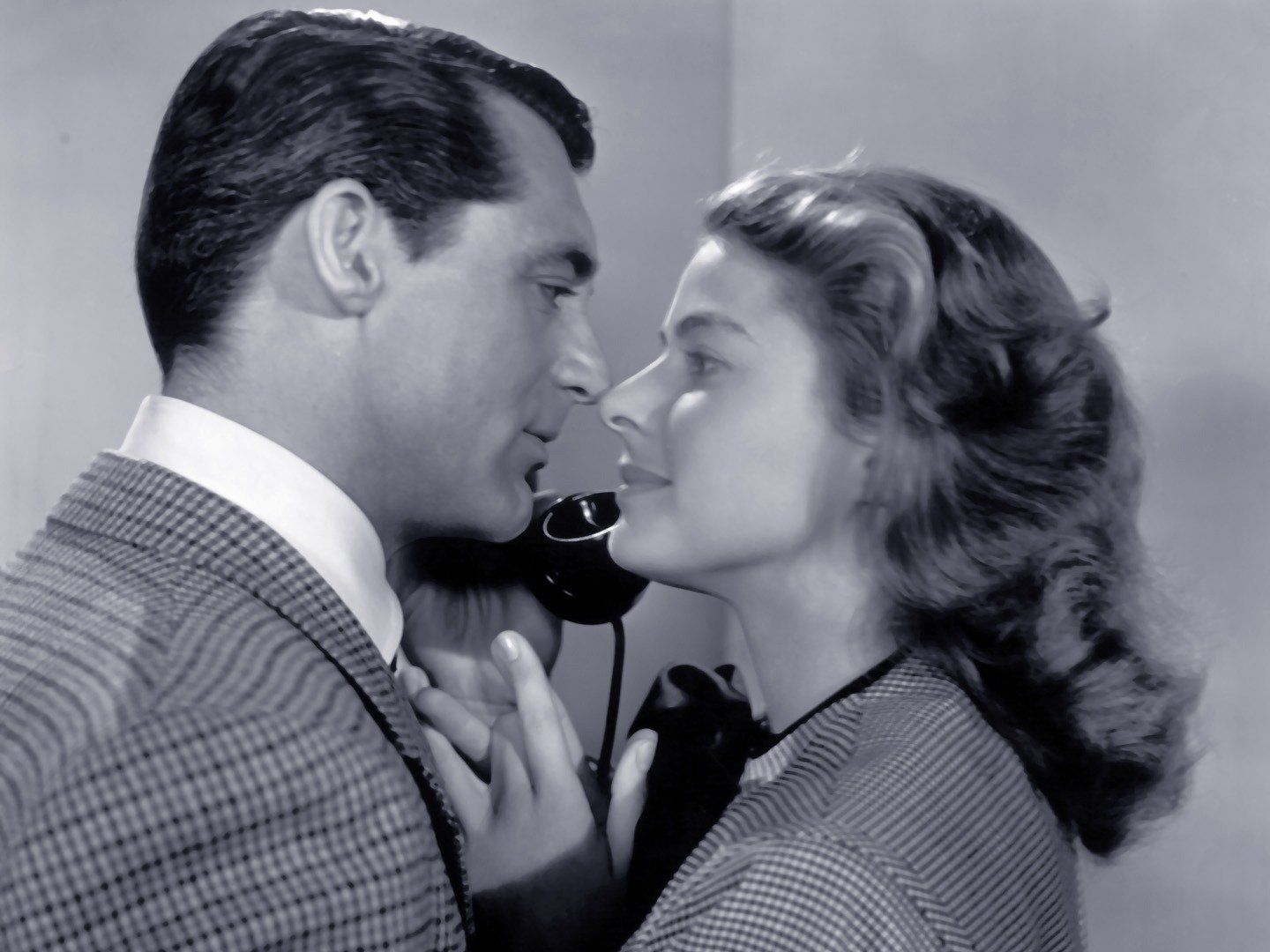 Notorious is not the type of story we've come to associate with the renowned Alfred Hitchcock, but the feel and style of the film is still very much within the reigns of his trademark direction. Hitchcock's use of visual cues and innovative cinematography demonstrate an exemplary visual storyteller, one who can derive suspense from showing something as simple as Alicia hiding a key in the palm of her hand. In the opening of Notorious, we witness Ms. Huberman's father be prosecuted in court through a framed shot that makes it feel like we are peeking into a room and witnessing something we shouldn't be. In a following scene at a social gathering Alicia hosts, before Hitchcock introduces us to Mr. Develin, the focus of the camera is strictly kept on the back of Mr. Develin's head as to keep his identity a secret. An aura of mystery carries on throughout the film and we are kept guessing until the final shot where the door is slammed shut behind Mr. Sebastian, whose life is clearly in serious jeopardy.
By telling the majority of the story through the lens of his camera, Hitchcock reduces dialogue and conversation to only that of which is necessary. This demands more subtle performances from Hollywood legends Cary Grant (whom Hitchcock would later collaborate with on his 1958 film North by Northwest) and Ingrid Bergman (who starred in Hitchcock's film from the prior year, Spellbound). The chemistry between the suave Grant and the expressive Bergman is electric, and their darting eyes and lustful gazes detail a romance full of heartache. Notorious is a far cry from a Nicholas Sparks adaptation.
Another experiment from Hitchcock, Rope was released two years following the premiere of Notorious. The film, adapted from the stage play written by Patrick Hamilton, is about two New York socialites (John Dall and Farley Granger) who conduct the "perfect murder" as to prove their superior intellect. After killing their peer David, the two men host a party in the same apartment where they are stashing the body. To Dall's Mr. Brandon, the event is all a fun game simultaneously validating his heightened perception of himself. Granger's Phillip is much more anxious about the situation and appears closer to cracking every time the murder weapon, a rope, presents itself. Phillip's unease is only elevated when Rupert Cadell, played by the great James Stewart, enters the scene and swiftly grows suspicious.
Similar to how Notorious proved to be new terrain for Hitchcock to conquer, Rope is an example of him exploring new territory which he would later refine inDial M for Murder (1954). In Rope, Hitchcock gives the illusion of witnessing a play on stage performed in front of a camera. As the original iteration of the story is told within an enclosed setting, Hitchcock's Rope consists of a single set: an apartment living room overlooking a beautifully recreated New York skyline. To supplement the impression of the film being a play, Hitchcock made the decision to shoot one long continuous take – close ups on passing characters acting as curtain falls. Between the sense of claustrophobia induced by the enclosed single setting, and the energy generated from the continuous motion (which also helps the film avoid feeling stagnant as it remains in the same place), Hitchcock is not only able to keep the material close to its origin but polish it with a fresh cinematic gleam.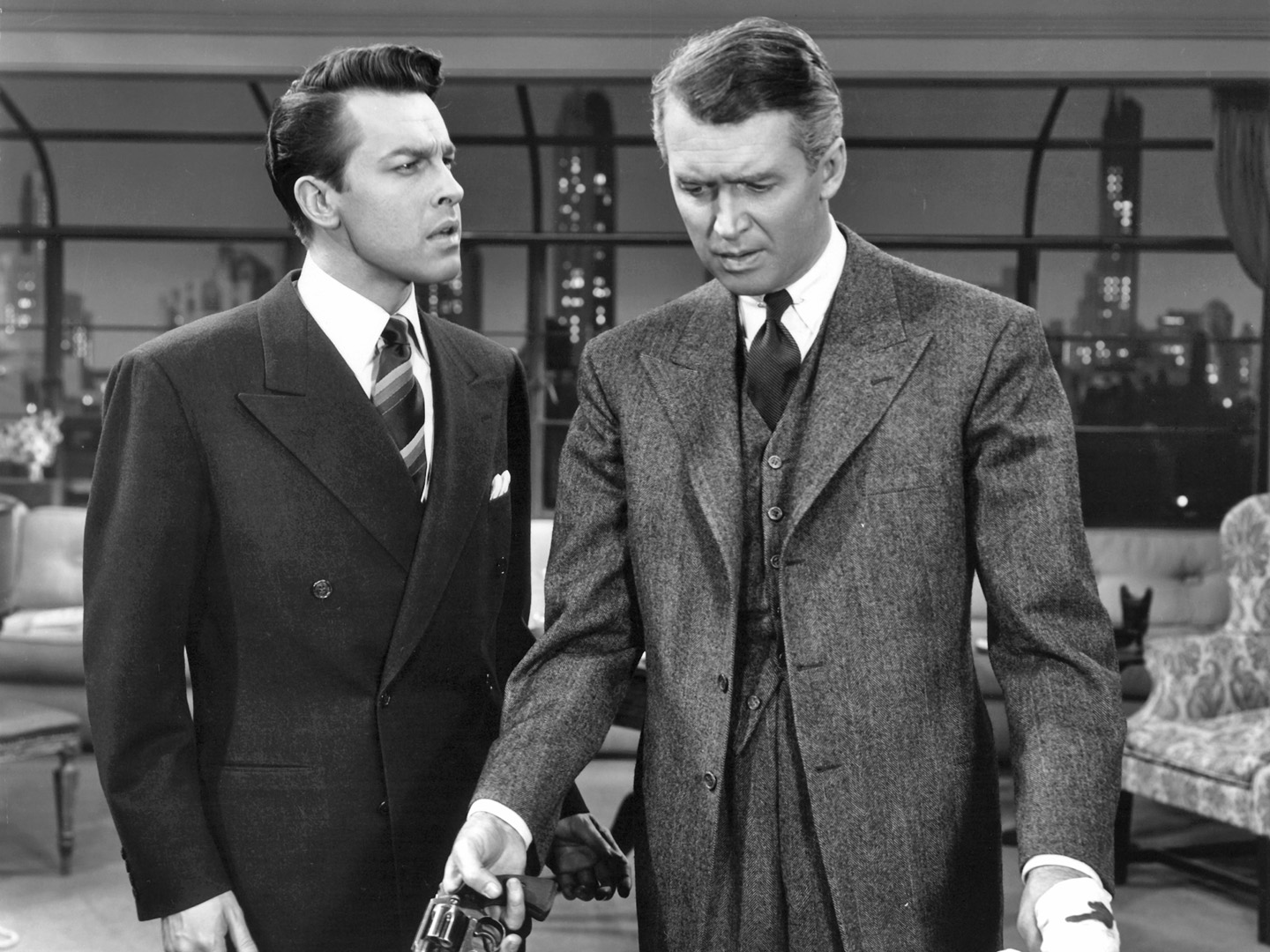 Rope is also a film not without the signature suspense of Hitchcock. The dramatic irony of us as an audience knowing David is dead and his body is present in the room, while the majority of the characters do not, creates tension every time someone moves towards the chest where David is hidden, or Rupert asks questions moving closer to discovering the truth. As with Notorious, Hitchcock deploys visual cues as devices to amplify the irony. The rope with which David was strangled frequently makes an appearance, eventually used to tie together the books Mr. Kentley, David's father, takes home with him. Mr. Kentley is completely unsuspecting of the fact he is walking out with the item used to murder his son. Nearing the film's final act, Rupert finds a hat with David's initials stitched on the inside and his suspicions of Brandon and Phillip are confirmed without a single word being spoken. Hitchcock also utilizes the irony to supply his film with dark comedy.
"Oh, it isn't someone's birthday, is it?"
"Don't look so worried…it's really almost the opposite".
Both Notorious and Rope are two films which are recognizably Hitchcockian, yet distinguish themselves from the rest of Hitchcock's storied filmography with their gimmicks and genre.
---