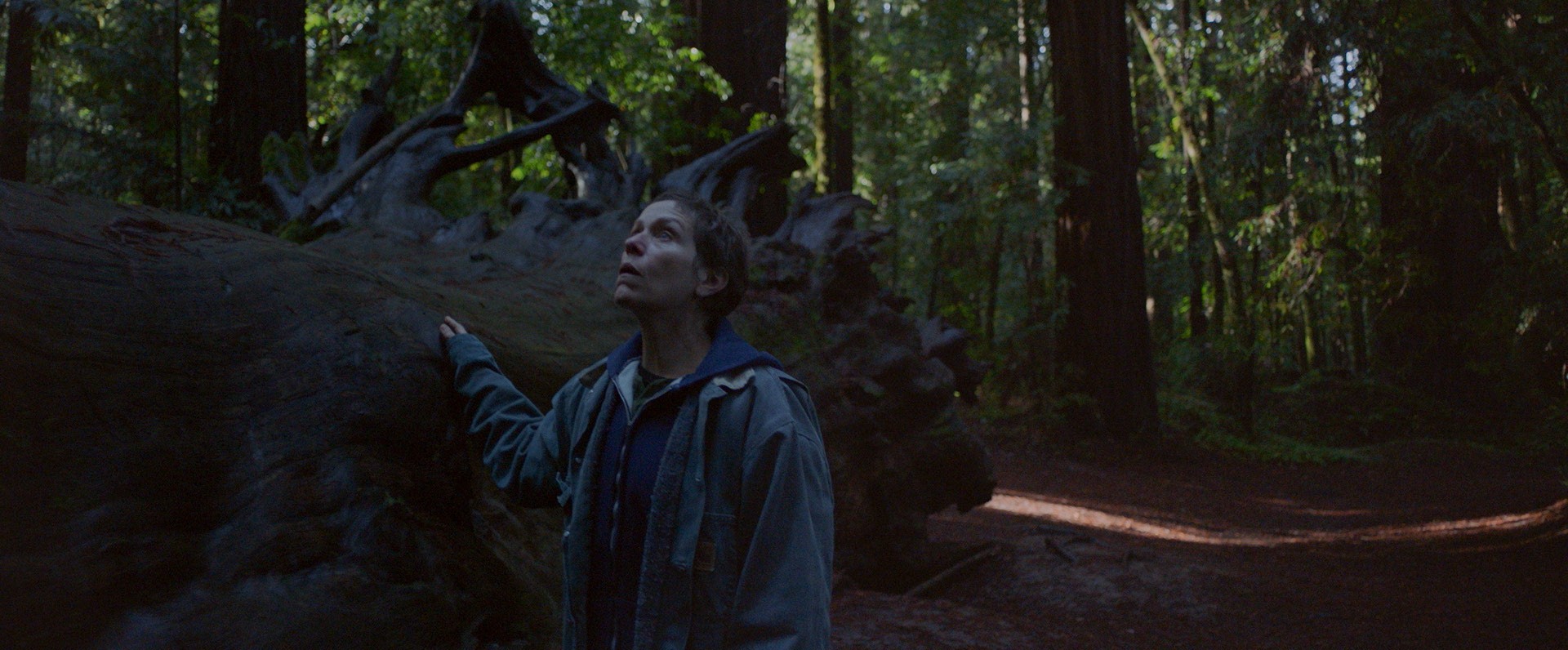 Nomadland is a favorite to win best picture at the significantly delayed 2021 Oscars. The film confirms Chloe Zhao as one of the most talented up-and-coming directors working today and is another acting showcase for Frances McDormand, who improves upon her already impressive performance from Three Billboards Outside Ebbing Missouri.
Writer director Chloe Zhao adapted Nomadland from the 2017 non-fiction book of the same name, written by journalist Jessica Bruder. The book is about older Americans following the Great Recession who transitioned into the nomad lifestyle and travel across the United States looking for seasonal work. Three real life nomads from the book are featured in the film: Linda May, Swankie, and Bob Wells. They all assist Fern (McDormand) in adapting to the equally freeing as scary van-dwelling way of life.
Nomadland is a story unconcerned with getting from point A to point B. Instead, it looks to acknowledge a sector of society neglected by corporate America and elected officials. It is not Amazon or Congress the "nomads" are dependent on for survival, but each other, and the sense of community director Chloe Zhao evokes in her film is profound. She authentically taps into the working-class ethos with her use of real people rather than actors, and by showcasing all aspects of life…even the less pretty parts. These techniques are what made her previous film, The Rider, such a film festival darling. The Rider is a film about a young cowboy who is no longer able to continue competing in the rodeo after an accident. Zhao's style of storytelling is rare in its use of real people with an actual connection to the subject matter/source material; Frances McDormand and David Strathairn are the only prominent actors in Nomadland. This choice places a greater emphasis on the humanity of Zhao's characters over flashy gimmicks or contrived drama. Sometimes you do not need actors when you can find people who live the story you are trying to tell everyday – save the Hollywood stars for the superhero movies.
Zhao's patience behind the camera also makes her film feel so realistic. With the help of cinematographer Joshua James Richards, who collaborated with Zhao on The Rider, Nomadland is a voyeuristic feature. Shots linger on those within the frame and Zhao keeps the lens on elements of life left out of traditional scripts. This means watching Frances McDormand fold her laundry, stir a pot of soup, or take a leak on the side of the road. Inclusion of the mundane may sound like the makings of an experimentally dull film – after all, movies are a form of escapism from our daily lives – but the minimalism in Zhao's direction only serves to emphasize the minimalist lifestyle of the nomads. The result is poetic, communal, and reflective, and allows us to become invested in the personalities we are introduced to so that we never consider checking our watches. A single scene of McDormand gazing out at the vast, beautiful landscape of a state park as she takes a drag of a cigarette achieves a sense of serenity to great effect. The tracks from composer Ludovico Einaudi only add to the mystical sensation that is Nomadland.
Fern, the fictional character at the heart of a non-fiction story, is someone who lost almost everything, likely as a result of the consequences of the 2008 financial crisis. She lived with her husband in the company mining town Empire, Nevada. In 2011, as the opening title card states, the facility Fern's husband worked at closed due to a reduced demand for sheetrock. When the mine shut down, so did the town, and Fern was forced to relocate. Instead of returning home to family, she chose to purchase a van and live in it. She chose cold nights and overnight parking over suburban civilization, as her freedom and independence mattered more than comfort.
For sake of a deeper understanding, Frances McDormand and the production team lived out of camper vans as they travelled across the American west. McDormand's method style of acting gives her character genuineness, despite Fern's fictitious origin; she may as well have been as real as anyone else in the movie. Fern is emotionally distant yet selfless, someone who cares about others but isn't necessarily keen on receiving help herself – especially if she doesn't ask for it. She listens to the stories of other nomads, and supports them through illness, but when Fern is questioned about her own past, she has a tendency to brush the questions off. Only in select moments and around the right people will she open up and show her vulnerability. Fern also has a soft spot for poetry; Shakespeare's sonnet 18 is recited. The subtle moodiness of McDormand blends with the character well, and her body language paints a person coping with tragedy one day at a time.
Nomadland is a film from a director whose vision and commitment to the story elevate already compelling material. With an experienced talent in Frances McDormand at the center, Chloe Zhao has made a prime awards contender. Nomadland will not shock you immediately, but rather resonate in the days after viewing it, and many working-class Americans will relate to the film's central premise of living by one's own means and agenda.