Angelina Jolie smolders as an action hero in this Western set against the backdrop of a forest fire. Written and directed by Taylor Sheridan, Those Who Wish Me Dead is a tense thriller with shallow characters.
The film follows Hannah (Jolie), a smoke jumper haunted by a tragedy that occurred when she was battling a forest fire. When two hired assassins (Aidan Gillen and Nicholas Hoult) are hunting the son of an accountant who has uncovered financial fraud among politicians and other influential individuals, Hannah gets a chance at self-redemption by protecting the boy.
Taylor Sheridan is a veteran at writing films for the Western genre. He was the mastermind behind both Sicario movies, the chilling thriller Wind River (2017), and Academy Award nominated Hell or High Water (2016) – quite the impressive resume if you ask me. For Those Who Wish Me Dead, Sheridan is not only the screenwriter but also tries his hand at directing; the result is mediocre.
Those Who Wish Me Dead is a film designed to be watched on the big screen and with quality surround sound. We watch a home explode, lightning strike, fire consume trees, and a car wreck off a cliff. The film is loud and explosive when it wants to be, and has the beauty of the Montana wilderness as background to roam around in. What ultimately undermines this is I found it difficult to care. Those Who Wish Me Dead is so busy filling its runtime with action set-pieces it forgets to develop its characters. Aside from learning about the accident which afflicts her emotional well-being, we learn nothing about Hannah other than she's a badass who can parachute off trucks. Jolie is well-suited to the stoic tough girl role and proves she can still head an action-thriller like this, but her character is one-dimensional.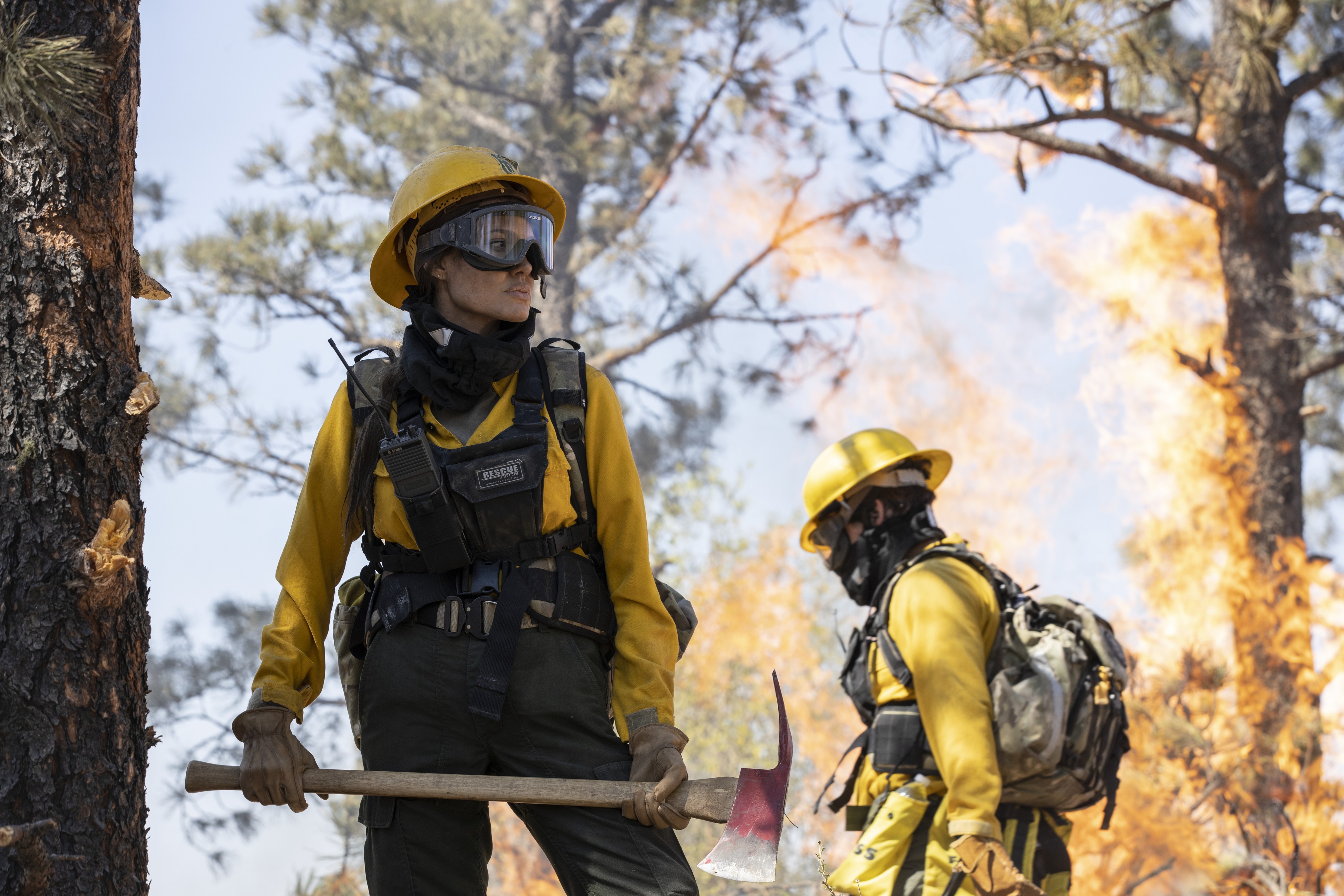 Hannah isn't the only character suffering from a lack of development. The assassins we spend time following are hardly more than hired goons with familiar faces. Apparently, they are father and son, but I didn't find that out until I was reading a review after already having watched the film – if that doesn't tell you enough already, I don't know what will. Gillen, of Game of Thrones fame, shows cinematic promise as an antagonist and I'd like to see him get more roles like this…just in better movies.
Jon Bernthal plays a local sheriff who is married and expecting his first child with his wife (Medina Senghore) who works at a survival school based in the park. It is revealed Bernthal is the uncle to the boy in trouble which is why the boy's father looks to go to him for protection. This is what brings the assassins to Montana. The same is true for Bernthal's character Ethan and Senghore's Allison as everyone else in the film – the couple doesn't get enough screen time together to get to know them, although they are the closest to being fleshed out as characters.
Taylor Sheridan is one of my favorite screen writers working today. He has mastered the Western genre and while he shows flashes of his potential directing ability with this film, Those Who Wish Me Dead is so dry it's no wonder the trees caught fire.
Those Who Wish Me Dead is in theaters and streaming on HBO Max today