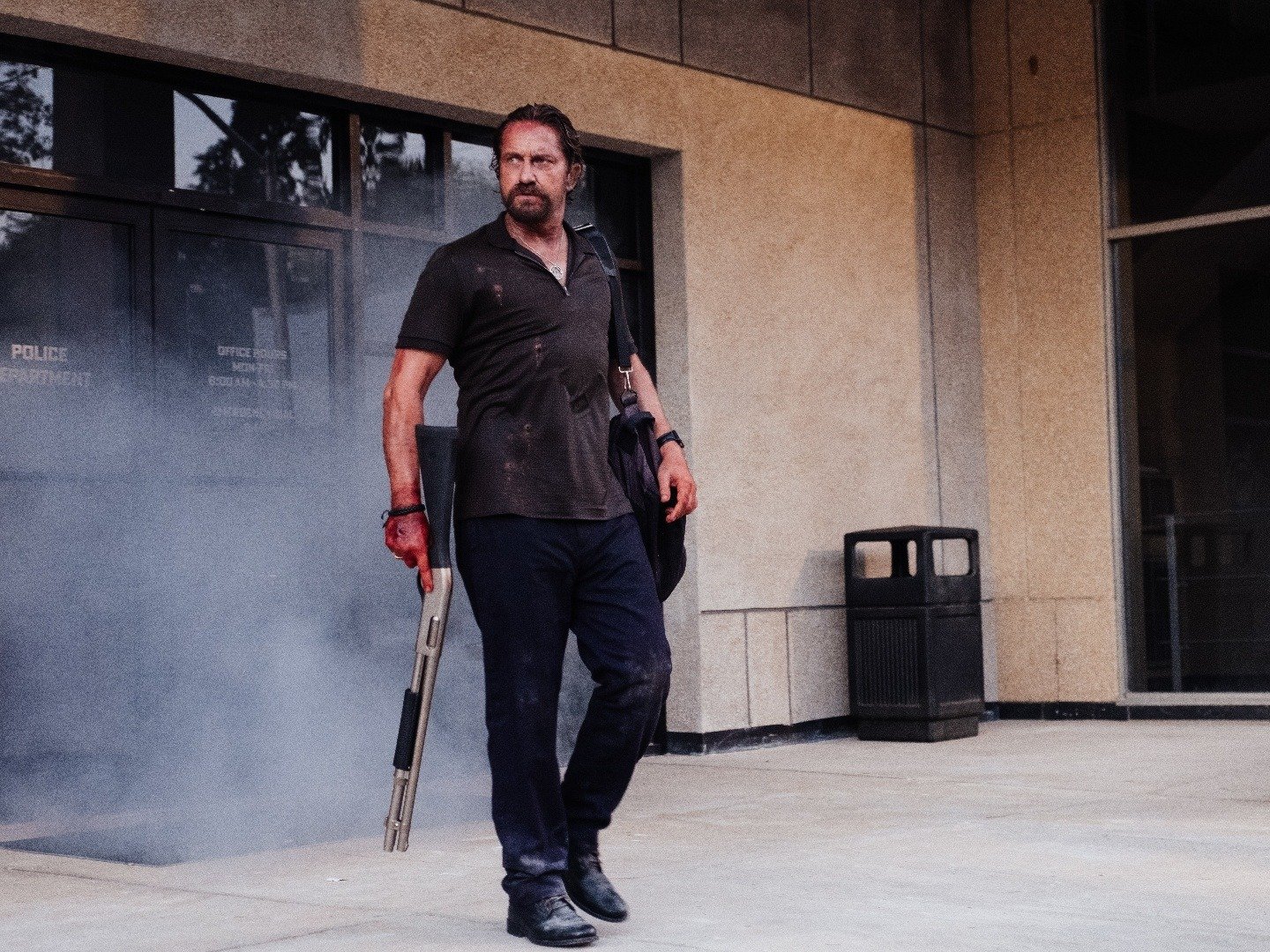 A con man (Frank Grillo), a lethal assassin (Gerard Butler), and a rookie cop (Alexis Louder) walk into a police station. The lethal assassin says to the con man, "I'm here to kill you." The rookie cop then says, "There'll be none of that." Shots are fired, but not by anyone in the room. There is a psychopath with balloons at the front door. Oh boy, this is going to be fun.
Copshop is one of those films that feels as if it came out of a blender. When I say this, I mean director Joe Carnahan (The Grey) and screenwriter Kurt McLeod took an assortment of genres, tropes, and cliches and threw them together. Copshop is familiar yet different. It is the type of film you'd expect to come late in the summer and go somewhat under the radar, picking up its fair share of indie fans along the way. Don't be surprised if this becomes something of a cult classic. As for me, I can say I was thoroughly entertained by Gerard Butler. Butler hams it up in a way reminiscent of his character in Den of Thieves, and always has a snarky comment.
The film's opening sequence pans across the Nevada desert as a man drives a cop car littered with bullet holes. The film's title later presents itself in big letters with a font not seen since the 70s (think back to the Spaghetti westerns of the Eastwood era). What ensues may as well be Carnahan's best Tarantino impression. The dialogue is sarcastic and insulting. The film is violent, bloody, and ends in a Mexican standoff. À la Reservoir Dogs, Copshop primarily remains in the singular setting of a police station.  However, Carnahan isn't Tarantino and often teeters on the edge of trying too hard to be cool. You're better off revisiting the films that influenced Copshop's existence.
Copshop is in theaters today
James Wan is a master storyteller of the horror genre. He is like the Stephen King of filmmaking. He kickstarted the Saw franchise, The Conjuring Universe, and the Insidious trilogy. Wan's films are frenetic, visually interesting, and sometimes campy. His most recent feature, Malignant, may not receive its own string of sequels but is still worth a look. The film is intentionally over the top, and Wan reuses certain techniques from his previous features. There is hardly a dull moment in Malignant and it works as a great movie to turn your brain off to.
After a home invasion that leaves her husband brutally murdered and herself injured, Madison Mitchell begins to have paralyzing visions of murders happening in real time. She is somehow connected to the entity responsible for her visions, and it's only a matter of time before the killer comes for someone who matters to Mitchell most.
The opening to Malignant is dramatic, with a chaotic energy and setting reminiscent of the introduction to Danny Boyle's zombie flick 28 Days Later. The film then transitions to modern day, and what follows is a sequence we'd expect to see in one of the Conjuring movies. A blender is turned on, the fridge is opened, the TV goes to static, and then boom: a shadowy figure jumps out. However, the supernatural style of the film's early scares is misleading; Malignant is, for most of its runtime, a revenge slasher with a monster at its core. Wan deploys dramatic sound cues and goofy dialogue to evoke a different era of horror films. He has crafted a story that gets increasingly ridiculous, all the way up to a plot twist M. Night Shyamalan wish he thought of. Where Wan lacks the political nuance or indie aesthetic of some of today's best horror movies, he makes up for it with simple enjoyment. 
Malignant is in theaters and streaming on HBO Max until October 10