The Hitman's Bodyguard was a surprise action-comedy hit that released in theaters during the late summer of 2017. The film paired stars Ryan Reynolds and Samuel L. Jackson as an unlikely bodyguard hitman duo, who are pursued by a bloodthirsty Eastern European dictator (another role Gary Oldman disappears in). The film coasted off the banter-driven chemistry between Reynolds and Jackson and over-the-top action sequences. After earning $176 million at the global box office against a budget of around $30 million, we have been gifted a sequel four years later.
Following his delicensing as a professional bodyguard, Michael Bryce goes on a sabbatical to find some inner peace. This means no guns, no violence, and especially no bodyguarding. However, Bryce's sabbatical is suddenly put on pause when he's visited by an old friend seeking help. Once reunited with Darius Kincaid, the hitman who ended Bryce's career, Bryce and Kincaid become embroiled in a global plot against their will. Along for the ride is Sonia, Kincaid's wife. The duo-turned-trio get off to a rough start, as Bryce is bullied and driven to insanity by the volatile Kincaid couple. But the fate of Europe rests in their hands, and they'll have to find a way to work together.
Besides being a mouthful of a title, The Hitman's Wife's Bodyguard is a mediocre action-comedy spy thriller. The film allows Reynolds and Jackson to reprise their respective roles as unlicensed bodyguard Michael Bryce and hitman Darius Kincaid. Salma Hayek, who plays Kincaid's wife Sonia in the original movie, is given more screen time to shine as the foulmouthed and just as lethal as her husband con artist. The Hitman's Wife's Bodyguard also adds Antonio Banderas, Frank Grillo, and Morgan Freeman to the cast. Banderas takes on the role of Aristotle Papadopolous, a vengeful Greek socialite. Grillo is detective Bobby O'Neill, who is tired of being in Europe and wants nothing more than to return to Boston. And you'll never guess who Morgan Freeman is (I won't spoil the surprise).
As sequels do, The Hitman's Wife's Bodyguard takes the formula that worked in the previous chapter and amplifies it. The Hitman's Bodyguard was full of swearing, so the script for The Hitman's Wife's Bodyguard drops even more F-bombs and slurs spoken in Spanish. The action in the sequel is also more ridiculous and explosive, and the mission Bryce and Kincaid embark on is all the wilder. The chemistry between Reynolds and Jackson picks up right where it left off in the original movie, as their characters' love-hate relationship continues to be entertaining to watch. Both actors play up their schticks we've come to expect from them.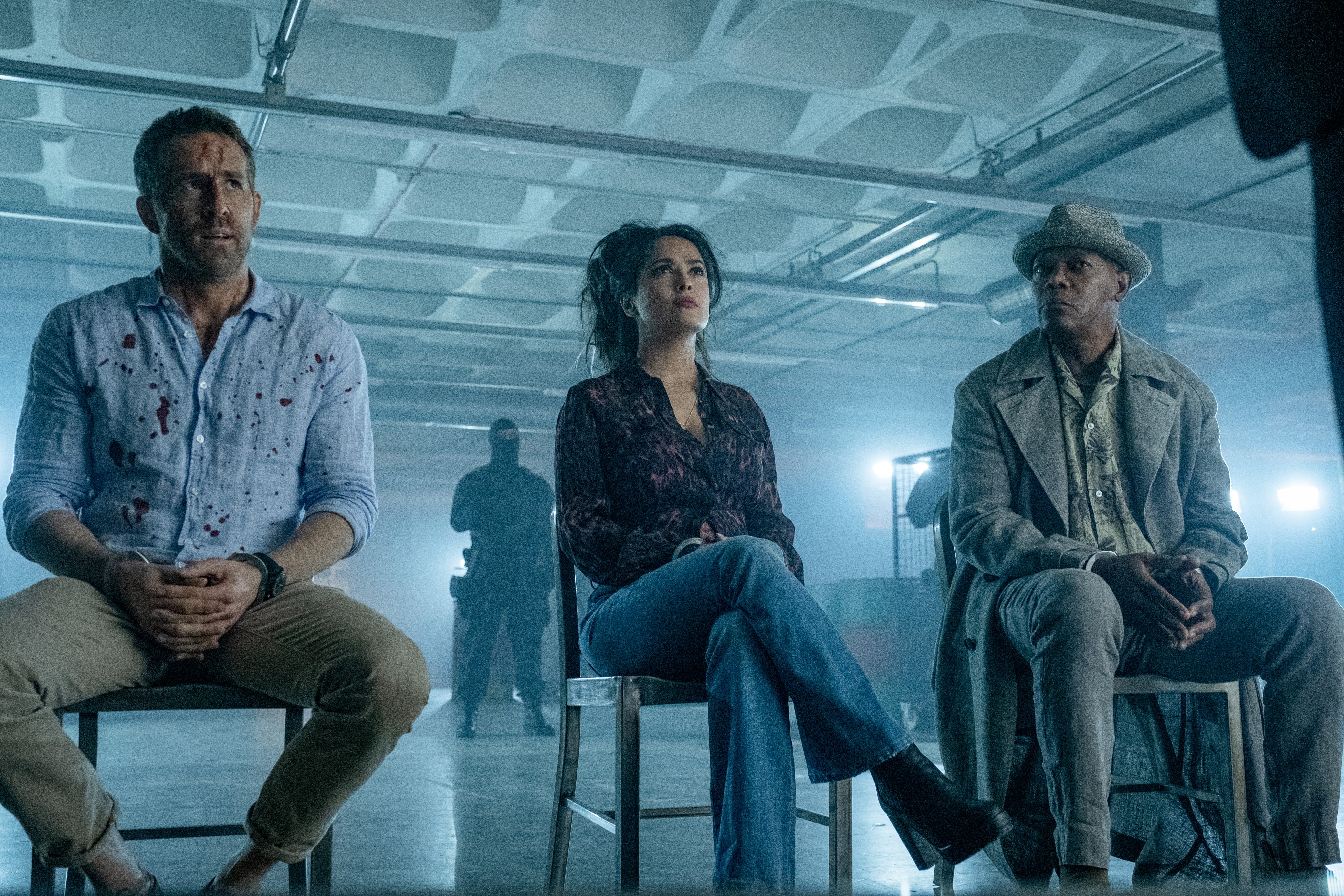 The biggest difference between The Hitman's Bodyguard and The Hitman's Wife's Bodyguard is the increased presence of Salma Hayek. In the first movie, she was a fun cameo. Hayek was placed in a role we're unaccustomed to seeing her in, and she soaked up every second of it. In the recent sequel, she becomes the focal character of the film. Hayek is given a chance to go on more tangents loaded with swear words, and violently murder faceless goons. There is a running joke throughout the film where she asks Reynolds' Bryce if she would make a good mother to which he has no choice but to lie as to not risk setting her off. Perhaps Sonia Kincaid would be a good mother if she treated her child like her 9mm pistol and replaced every "motherf*****" that came out of her mouth with a lullaby.
If I'm being honest, I'll probably have forgotten The Hitman's Wife's Bodyguard exists by the time August rolls around. The sequel is a notch worse than its predecessor. If you're looking for escapist entertainment, however, or are just a fan of Reynolds and Jackson, you could do worse.
The Hitman's Wife's Bodyguard is in theaters now